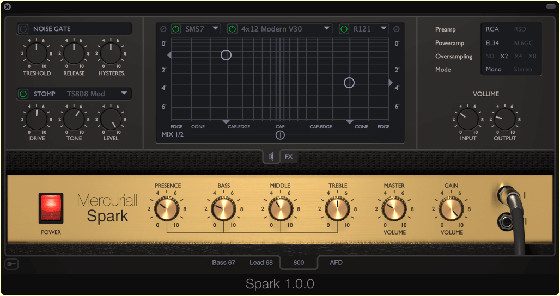 The guys from Mercuriall officially released their new Spark amp sim today, their second commercial amp sim along with the Tube Amp Ultra 530, an Engl amp simulation.
Spark is an amp sim package that simulates four famous Marshall amps, plus it includes stompboxes, cabinets, mics, and effects.
Spark is compatible with Mac and PC and it comes in VST, AU, and AAX formats.
The list price is $120 but they have an intro price of $99 for the first three days.
If you own the U530 amp sim you can get Spark for $99 as well.
Spark includes simulations of the following Marshall amps: the AFD, the JCM 800, the JMP Super Lead, and JMP Super Bass. The tubes: 12AX7 RCA, 12AX7 RSD; 6L6GC, EL34.
Here's the list of cabinets:
Bogner Uberkab 412 – 4×12 Celestion G12T-75
Bogner Uberkab 412 – 4×12 Celestion V30s
Marshall 1960B – 4×12 Greenback
Marshall 1960B – 4×12 JBL K120 (vintage)
As far as pedals and effects, it has a noise gate, chorus, delay, and reverb. Plus it includes simulations of the Ibanez TS-808, the Ibanez TS-808 Lower Drive Mod, and Ibanez TS-7 Hot.
Unfortunately their demo version of Spark is pretty hampered so I'm not even going to bother trying to test it. The demo cuts out occasionally and restores to defaults every 20 minutes, plus you can't save any changes.
Mercuriall Spark Review
Mercuriall Spark Demo