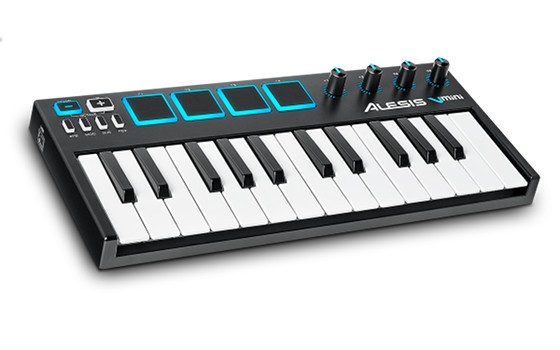 Alesis has released a new "mini" version of their V series USB MIDI keyboard controllers.
The little tike is aptly called the Alesis V Mini. It has 25 mini keys, 4 pads, 4 knobs, and buttons for octave up and down, modulation, sustain, and pitch bend.
The pads, buttons, and knobs have nifty blue LED backlights. The keybed has 25 velocity-sensitive keys.
The four drum pads are also velocity sensitive. The knobs spin 270 degrees, and can be assigned to different controls.
On the surface it's a cool-looking portable MIDI controller, but there are a few notable problems…
First, it doesn't look like it comes with Ableton Live Lite, or any other DAW for recording music, which is required to use the Alesis V Mini (not Ableton specifically, but a DAW in general).
The V Mini also comes with AIR Music's Xpand!2, which is a nice little plugin with a ton of preloaded sounds that also requires using a DAW to function.
So basically Alesis is selling two products together that can't function on their own without some other 3rd-party software. Brilliant! And they're marketing it to beginners nonetheless.
A couple of months ago I reviewed the Alesis V25 keyboard controller, the regular-sized version. It's a good MIDI keyboard for the price, but sometimes the pads register double hits.
It's weird because all the regular V series keyboards come with Ableton Live Lite—pretty much everything does these days.
The kicker with the Alesis V Mini is that it sells for $79. That's only $10 less than the full-size V25 that has more pads, more buttons, mod and sustain wheels, plus software to actually use the controller.
In fact the V25 often goes on sale for $69, so pricing the smaller version with less features and less software for $10 more doesn't make a whole lot of sense, but then again portability is a bigger factor for some.