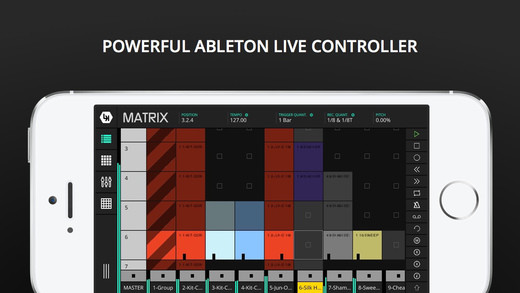 The LK Ableton Live Controller app (formerly LIVKONTROL) recently got updated to add support for Android smartphones and iPhones. Previously it was only available on tablet devices; now small screens can get in on the fun too.
With the LK app you can pretty much control every aspect of Ableton Live from your phone or tablet. You can connect via Wi-Fi or USB, and you can even connect to USB MIDI interfaces and switch over to work with external gear.
It's an easy way to essentially turn your phone or tablet into a portable MIDI controller so you don't have to lug around extra gear.
And like using a regular MIDI controller with Ableton, the mapping controls correspond to the parameters onscreen, and you can quickly assign custom mapping controls to change whatever parameters you want.
The LK app is free to download on iTunes and Google Play. The app offers in-app purchases for different modules, which range in price from $5-$10.
The Matrix module is designed to launch and edit clips, control volume, panning, etc. It can also control recording, looping, pitch, the crossfader, and more.
The MINI Pads module offers MPC style pads with tools for MIDI and Live instrument playing, with radial velocity control, octave selection, arpeggiator, tempo sync, chorder (with 25 programmed chords), and customizable MIDI output.
The MIDI Controller module offers 128 different ways to control MIDI parameters in Ableton Live. There are 8 columns of controls with 4 banks, and each column has a knob, toggle switch, fader and pad.
The X/Y Pad module is a 3-D parameter adjusting pad, with 4 banks, ASR envelope generator, and LFO modulation control with 4 waves and 3 transfer functions.
The video below shows how the LK Ableton Live Controller apps works. This was back when only tablets were supported so just pretend it's a smaller screen.
LK Ableton Live Controller
via: Create Digital Music