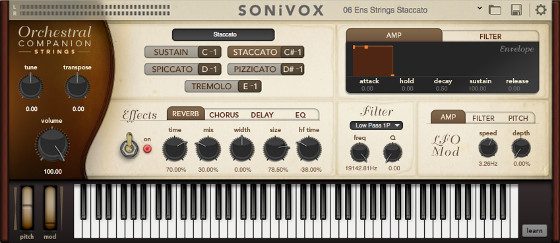 One of the coolest things about the holiday season is the fact that some companies like to give away software plugins and virtual instruments for free or offer them for super cheap.
A couple of audio companies like Soundtoys and Waves already gave away a paid plugin for free on Black Friday, while others prefer to give away freebies around Christmas time.
There are already a few freebies being given away at present.
There's also a no-brainer deal for the Orchestral Companion Strings by Sonivox for $1 at Plugin Boutique.
It normally sells for $100 so that's pretty hard to pass up.
Then they have the premier collection upgrade for 60% off at $69.
Plugin Boutique also has Xpand!2 from Air Music on sale again for $1. But you can also get it for free through DJWorx.
Here's the list of freebies and insane deals. Feel free to add more in the comments if you come across any.
Holiday Freebies and Deals
Kinetic Treats – Free from Native Instruments until January 4th, also includes a $25 e-voucher for discounts. Kinetic Treats is a new KONTAKT instrument based on the timeless sounds of vintage children's toys.
Xpand!2 – Get it free through DJworx until January 4th. Also $1 at Plugin Boutique through January 31st.
Arturia Freebie – Arturia is giving away their MiniFilter V plugin through December 25th.
KiloHearts Reverser – A free holiday gift from Kilohearts until December 28th.
Orchestral Companion – Strings – On sale for 99% off at Plugin Boutique until December 31st, only $1.
MSW1 Stereo Width Plugin – A free stereo width plugin, available free through December 31st.
Sonniccouture Estey Reed Organ – A free pedal organ player for Kontakt available through December 31st. Enter code ESTEYFREE at checkout.
Sonokinetic EMP Mark II – A free electric piano available through December 25th.
Also don't forget the 4 free plugins available from Focusrite throughout December.