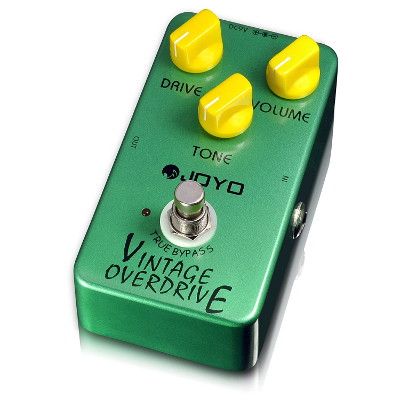 A couple months ago I bought a Joyo Vintage Overdrive pedal for really cheap and it's turned out to be a great pedal.
The Joyo JF-01 Overdrive is a classic tubescreamer clone that only costs about $30.
That's a great price considering that similar pedals like the Ibanez TS808 and Maxon 808 sell for $150, which is just insane (I don't know how people put up with such nonsense when they probably cost about $10 to make).
The Joyo JF-01 Overdrive pedal is proof that you don't need to spend that much to get the exact same kind of sound and effect.
The Joyo pedal has a nice clean sound with true bypass and it's very quiet and doesn't add any noise to the signal like some pedals.
The build quality is surprisingly strong for the price. It's made of metal and feels solid. The battery is easy to replace, and it doesn't drain quickly like you might expect from a budget pedal. In fact I've been using the same battery since I got it a few months ago and it still has a lot of juice left according to the tongue test.
Apparently the Joyo Overdrive uses the same JRC4558 chip found in the more expensive models, even though some descriptions say JRC4588, but that seems to be a typo because it doesn't make a lick of sense.
Mostly I use the pedal as a boost in front of a Mesa Boogie single rectifier to tighten up the low end and it works great for that, and it's also really nice on the clean channel when used at a variety of settings.
It can get a nice bluesy sound, and the overdrive sounds excellent on its own without using the amp's distortion. It's quite versatile actually. I just wanted it to use as a boost but it works great as an actual overdrive pedal as well.
The only complaint I have about the pedal is that I'm not really a fan of the yellow knobs, but for $30 they could be florescent pink for all I care.
If you're looking for a good tubescreamer or overdrive pedal for cheap I would definitely recommend trying a Joyo Vintage Overdrive pedal.