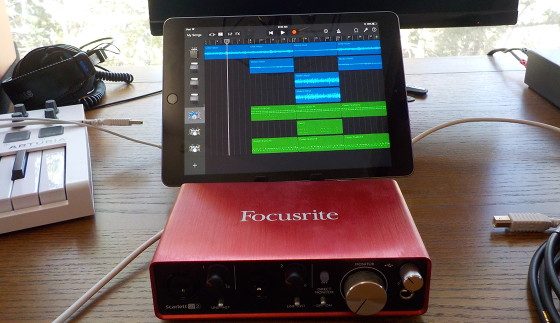 Here's a quick tip on how to connect a Focusrite USB audio interface to an iPad or iPhone. This allows you to easily connect microphones and instruments such as electric guitars and keyboards to your iOS device to record and create songs using various music-making apps.
For some odd reason Focusrite's USB audio interfaces don't officially support iOS devices, but it turns out they actually work quite well with iPads and iPhones.
I tested a 2nd gen Scarlett 2i2 and a Clarett 2Pre USB with the latest 2018 iPad and both work perfectly well.
Basically all you need is a Lightning to USB 3 Camera Adapter.
At $39 it's pretty pricey, but used and refurbished ones can often be purchased for $20-$25.
The cheaper 3rd party adapters won't cut it and you need to make sure to get the newer Apple adapter with the added lightning port to power the audio interface.
Your iPad or iPhone won't be able to power the interface alone so you have to plug the adapter into an outlet or alternative USB power source unless your audio interface has it's own power cable.
You can make the older Apple USB adapter work if you already have one laying around, but you'll need a USB splitter and a Y cable to get power to the interface unless it has it's own power.
If you want to go mobile, you can use a portable power bank to avoid having to plug into an outlet.
MIDI keyboards and controllers can be connected the same way as well, or directly to your audio interface if it has MIDI ports. When connected to an iPad directly, larger controllers will need to be plugged into a power source like the 2i2, but smaller ones like the Arturia MiniLab MKII don't need external power because they're power usage is low enough for the iPad to handle the job on its own.
How to Connect Interfaces and MIDI Controllers to iPad