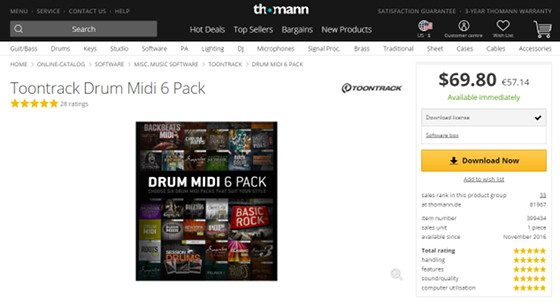 I recently stumbled upon an easy way to save some cash when buying music software, including certain plugins and some digital audio workstations like Ableton Live 10 and Reason.
If you live in the US, sometimes the exchange rate makes it quite a bit cheaper to buy software from outside the US (not sure if it works the opposite way; perhaps if you don't have to pay taxes it does).
Since software is usually delivered by a code in an email, you don't have to worry about paying for international shipping charges.
I recently wanted to buy some additional MIDI packs for EZdrummer 2, and I found the 6-pack is 30% cheaper from Thomann, a popular music store based in Germany.
Stores in the US sell the Toontrack MIDI 6-pack for $99, but I was able to purchase it from Thomann for about $71 total.
They sell other music software for less than it sells for in the States as well. Ableton Live 10 sells for about 20% less than it does from Ableton's website, and the same goes for Reason. Live 10 standard is only $355 instead of $449. Suite it $666 instead of $749.
They sell Cubase as well, and while some versions are a little cheaper than they sell for in the US, some are actually more expensive so you have to compare.
Toontrack's other software is cheaper there as well, including the EZkeys and EZmix software. Superior Drummer 3 is only $355 instead of $400.
So if you want to save some money next time you're buying music software, you might want to check some international websites for better prices. I would also advise to use PayPal when possible or a credit card that doesn't charge a foreign currency transaction fee to avoid additional charges.