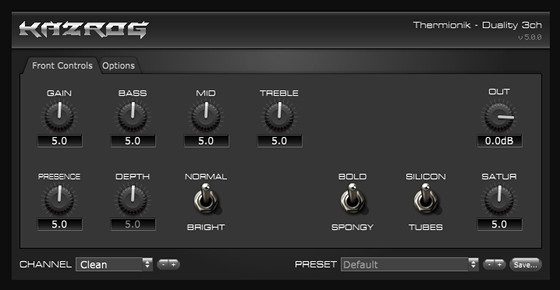 Through the month of April, Kazrog is offering 30% off of all plugins and bundles from the official Kazrog Store.
Just use coupon code 01E4CB58 during checkout to get the 30% discount.
The sale applies to all 30 amp sims, the new pedals (with the best-sounding Ibanez tube screamer available), and all of Kazrog's other plugins, including a new EQ.
They are already priced very competitively and with the discount the prices are just crazy.
You can get a 5-pack of amp sims for under $25.
Granted they don't come with any IRs like most amp sims but that's still a killer price.
It's taken me awhile to realize it but the Thermionik amp sims are by far the best amp sims on the market. It's not even close.
If you don't like Thermionik amps then there's something wrong with you. Seriously. Maybe you aren't using the right IRs (the ones from Kazrog are a bit too dark for my liking) or something is amiss with your signal chain, because these amp sims truly kick ass. The dual rectifiers are my favorites, and so is the new Diezel VH4.
The only fault with Kazrog's plugins, aside from the lack of fancy graphics, is the zero marketing approach. These plugins should be way more popular than they are. The Bias crap from Positive Grid gets 100x more press and people plugging it, but the sound quality and feel isn't anywhere close to the same level as Thermionik amps.
Let's be clear: I don't get paid a single penny to plug these amps. In fact the last time I bought a pack I decided to pay full price instead of using a discount code because they are that good and I hope Kazrog keeps making great plugins for a long time.