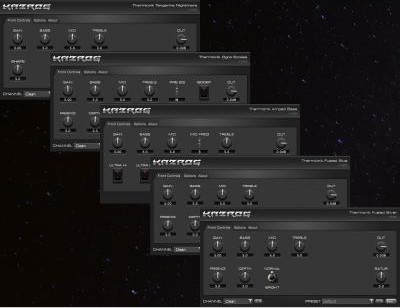 Kazrog makes some of the best-sounding amp sim plugins on the market, and now some new gear has just dropped in the form of five amps and five effect pedals.
This is the first time that Kazrog has offered stompbox simulations. The classic TS808 tube screamer is included in the mix, along with some rare models like the Klon Centaur and Big Muff Ram's Head, which sound more like characters out of a Tolkien novel than guitar pedals. 😀
There are some new options for bass guitars as well.
An Ampeg SVT sim has been added to the lineup, along with a Sans Amp Bass Driver DI pedal.
Like all Thermionik plugins they are available in AU, VST, and AAX formats for Mac and PC.
All the plugins have a 14-day fully-functioning demo so you get to try everything before you buy.
Plus the prices are very reasonable compared to most other amp sims on the market. You can get a bundle of five sims for $35, including any combination of pedals and amps, or you can buy each plugin individually for $9 each.
There's also a new complete collection bundle to get all of Kazrog's plugins for $250.
Here's the list of new gear. So far I'm really liking the Blue Diezel. It reminds me of the 3 channel Dual Rectifier when it comes to getting a big powerful sound.
New amp sims based on:
Ampeg SVT
Diezel VH4 (Blue Faceplate)
Diezel VH4 (Silver Faceplate)
Bogner Ecstasy / XTC
Orange Dual Dark 100
New guitar pedal effects based on:
Boss HM-2 Heavy Metal pedal (Made in Japan)
Klon Centaur
Ibanez TS808 Tube Screamer
1973 Electro Harmonix Big Muff (Ram's Head)
Tech 21 Sans Amp Bass Driver DI
With the new additions, there are now 30 different Thermionik amp sims available and 5 pedals.