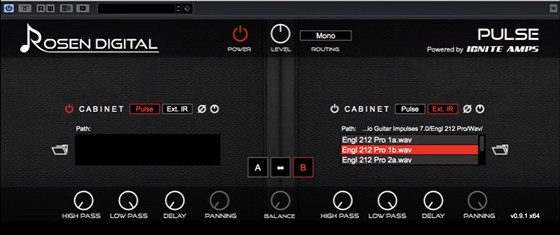 Rosen Digital Audio, makers of popular cabinet impulse responses, has teamed up with Ignite Amps to offer an updated and rebranded version of the NadIR plugin called Pulse.
Pulse is a free impulse response loader that works with Rosen Digital's IRs along with all 3rd party IRs.
It comes with a Pulse Cab IR built-in, a free default impulse response from Rosen Digital.
According to the YouTube description, the Pulse Cab IR was made by Alex Nasla & Rob Rosen to offer the widest frequency palette for all playing and tone styles.
Another thing that differentiates Pulse from NadIR is the addition of an A/B control.
Otherwise the two free IR loaders are very similar.
Pulse is available in VST and AU formats for Mac and Windows, and they say that AAX support is coming soon.
Pulse is free but it does require setting up an account with Rosen Digital in order to download, whereas NadIR can downloaded directly from KVR.
On a related side note, Kazrog has an ongoing promo with Rosen Digital to get 30% off any order of IRs from Rosen Digital with code kaz30rda (expires 10/31/16).
PULSE IR Loader – Rosen Digital Audio