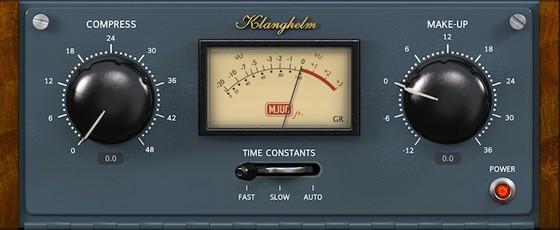 Klanghlem, a popular brand of audio plugins, recently released a new variable tube compressor plugin called MJUC, which consists of three different compressor models.
Instead of releasing a demo version of MJUC, there's lite version called MJUC jr that combines two of the three models into a standalone freeware plugin.
The free version is really good in its own right, and it will give you an idea of how well the full version performs in terms of quality and CPU performance because the free version runs at full capacity, but it just doesn't have as many features and settings as the models in the full version.
According to the description over on the Klanghlem website, MJUC jr utilizes a variable-mu design and is capable of smooth leveling and heavy pumping effects, with two gain stages and interstage transformer simulation. The timing switch controls the attack and release.
MJUC jr. is freeware and it works with Windows and Mac computers, with 32 and 64 bit options, and VST, RTAS, AU, and AAX support.
Here's the link to download MJUC jr from the Klanghlem website.
MJUC jr User Tips
Click on the meter to bypass MJUC jr.
Drag Time Constrants switch or click labels:
FAST: fast attack/fast release
SLOW: slow attack/slow release
AUTO: fast attack/auto release.
Click Klanghelm logo for global settings and credits.
Enable tips mode in settings for explanations when hovering over objects.
Change mouse speed in settings.
Change GR-Meter Speed from slow and fast in settings.
Change mouse drag behavior in settings.
Click GR in meter to change VU-mode from gain reduction/output.
Use Power button to toggle on/off bypass.
Klanghelm MJUC jr Tutorial and Demo