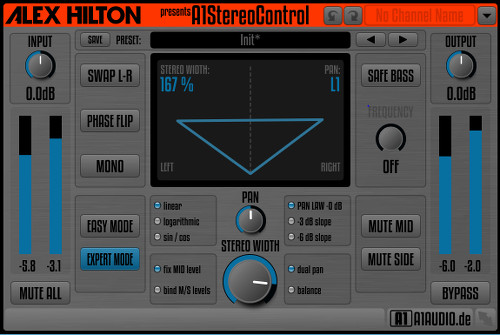 Earlier this month I posted about a new plugin called A1 Trigger Gate, which is entirely free and a lot of fun to play with to get some interesting sounds.
Another cool plugin that A1 Audio offers for download is called A1StereoControl. It's also freeware and it works surprisingly well considering the price.
The A1 Stereo Control plugin can expand or limit stereo width at the turn of a virtual knob. It works with single tracks and groups tracks, as long as they are in stereo of course
In addition to stereo control, the plugin offers a "Safe Bass" mode that automatically centers all bass frequencies down the middle.
A1 Stereo Control also has some advanced panning settings in Expert Mode that let you set different panning paramaters, including decible settings (0db, -3db, -6db), pan curves (linear, logarithmic, sin/cos), with the option for classic balance and dual panning modes.
Here's the link to the page where you can download the free stereo control plugin (scroll down, it's the second option on the page). It works with Windows and OS X operating systems and is available in 64 and 32 bit, with VST, AU, AAX and RTAS formats.
Below is a video that demonstrates how the A1 Stereo Control plugin works and how to use the various settings, including ones available in Expert Mode.
A1StereoControl Plugin Video Demo