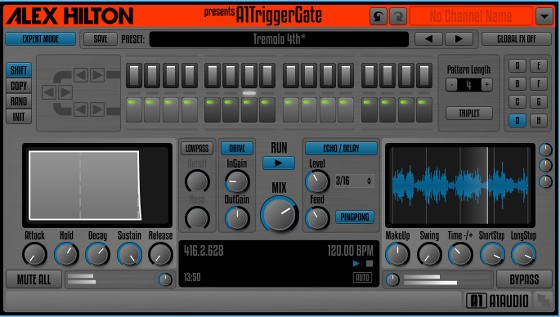 I recently came across a really cool new plugin called A1 Trigger Gate.
I've been playing around with it and it's a lot of fun. It can take a really basic pattern or sound and make it super complex and deep. There are tons of customizable settings and it can be used with all different types of music, not just dubstep, trance and dance music and the like.
The best part about A1 Trigger Gate is the fact that it's 100% completely free, and it works with just about any platform.
The plugin even has some included effects, including a lowpass filter, drive and distortion, and echo and delay. Plus the plugin is very easy on the CPU.
Here's the link to the page where you can download the trigger gate plugin for free. It works with PC/Mac, 64/32 bit, VST, AU, AAX and RTAS.
Alex Hilton also offers a free stereo control plugin that's worth checking out, which is also available from that page.
Below is a video that shows a demo of the A1 Trigger Gate plugin in action. It's a basic video that will give you an idea of what the UI looks like and what the preloaded presets can do.
Checkout the second video to learn how the plugin works and how to fine tune various settings to get a custom sound.
A1 Trigger Gate Presets Samples
This second video is an in-depth tutorial that helps explain how to use various aspects of the plugin, how to tweak settings, and use Expert Mode settings.
This video is also a great example of how versatile the A1 Trigger Gate plugin is, showing how it can be used with a basic rhythm guitar pattern.
A1 Trigger Gate Tutorial