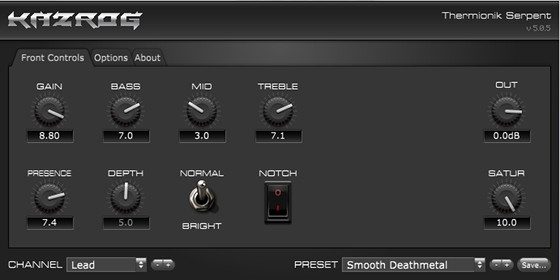 Kazrog is giving away one of the best amp sims on the market for a limited time only.
All you have to do is setup a free account to get an authorization code to get the Thermionik Serpent amp sim for free.
The Serpent is based on the Framus Cobra tube amp.
It has three channels and is a very versatile amp that can do everything from high-gain to sparkling cleans and just about everything in between.
I've tested a ton of amp sims and Thermionik amps are among the best out there.
My favorites are the dual rectifier sims and the new Diezel VH4, but the Serpent sounds great too. It has a lot of low-end power for nice tight heavy metal chugs.
If you're relatively new to amp sims, Thermionik amp sims can take a bit of learning to get used to, so I would advise reading the manual to get a better understanding of how the different knobs work.
You're also going to need a separate IR loader to take advantage of the free Serpent amp sim because Kazrog's amps don't come with any cabinet IRs unless you buy the bundle separately.
You can use free IRs and a free IR loader like NadIR or Pulse, the version from Rosen Digital, which includes an IR. It also helps to use a tubescreamer pedal in front of the Serpent for tight metal, like the free TSE 808, but the one from Kazrog sounds better so you might try the demo of it as well.
Free Serpent Amp Sim (Limited time offer)