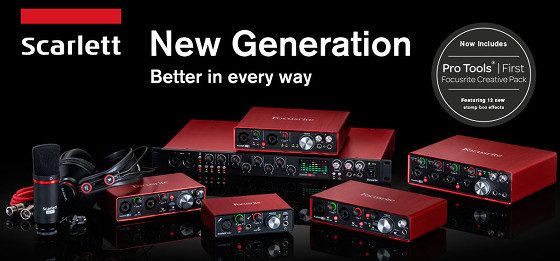 If you have a 2nd gen Scarlett audio interface, Focusrite posted new updated Windows drivers for them a couple of days ago on their website (still no word on 1st gen updates, unfortunately).
The new driver version is listed as 4.12.0. More specifically the new driver version on my PC is 4.12.0.141.
The 4.12 update includes a couple of major bug fixes (listed below), one that I've experienced several times myself so I'm glad to see it resolved.
I also noticed that the overall latency numbers are lower with the 4.12 update.
I usually use 48kHz/64 samples for playing guitar and that used to show 7.79 ms of overall latency in Ableton Live 9; now the same setting shows 5.88 ms.
It's a couple of seconds lower at 128 samples than it used to be as well, so they must have tweaked them a bit, but it's still the exact same at 32 samples as it was before.
In fact looking back at my Scarlett Latency Comparison Review, those lower numbers correspond with the original latency numbers from the very first set of drivers that had all kinds of problems.
Update: After more intensive testing, I've concluded that the 4.12 driver sucks ass. I've gone back to using the 4.11 driver (glad I kept a copy). Focusrite is getting too greedy with lower latency numbers. What the hell do we need 5.88 ms at 48kHz/64 samples when it's 5.17 ms at 32 samples? Now 64 samples induces crackling at higher CPU usage on my PC when it never did before. Then the 128 sample setting jumps all the way up to 10.5 ms. So they give us two 5 ms settings that run virtually the same and nothing in between that and double the latency. Whatever, Focusrite…
Fixes from 4.11:
– Major improvements with issue that caused distorted audio when streaming for long periods of time on Windows 10. In the unlikely event of this occurring again, the driver recovery time back to clean audio is also greatly improved.
– Major fixes for crashes found when disconnecting Scarletts from some computers.