Here's a roundup of some of the best 2×12 cabinets for metal and high gain, and of course a wide range of other tones.
Last week I posted a list of the 5 Best Mini Amp Heads for High Gain so naturally it makes sense to follow that up with a list of cabinets to go with them.
I was struck with a serious case of GAS, Gear Acquisition Syndrome, and had to buy a Peavey 6505 MH mini amp after posting that list.
So then I started researching what would be the best cab to go with it.
Since I'm primarily going to be using the amp for metal and high gain stuff, I wanted a cab suited for that kind of sound.
At first it was a decision between a 1×12 and 2×12 cabinet but for metal it's hard to deny the versatility, power, and fuller sound of a 2×12, even if it's just going to be used for practice. Plus the price difference isn't that significant so why not go for two speakers instead of one.
Here's a list of some of the most popular 2×12 guitar cabinets currently on the market. You'll never guess which one I chose…
Feel free to give a shout out to your favorite brand in the comments section!
Orange PPC212 Cabinets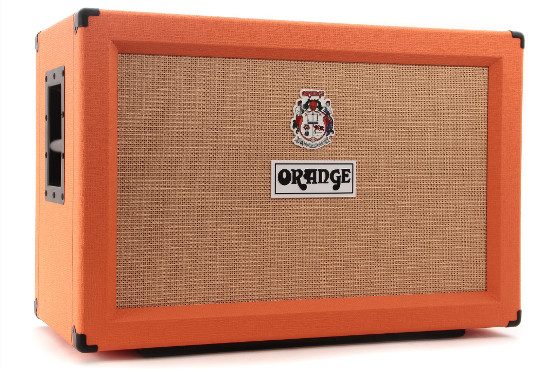 Orange Power Projection Cabinets (PPC) are among the best options for a 2×12 cab. Orange cabinets are built like a tank and can sound as big as some 4×12's.
Orange cabinets feature Celestion Vintage 30 speakers with a closed-back enclosure to crank out a big, powerful sound. Despite the "Orange" name the PPC212 is also available in black.
120 watts
2 x 12″ Celestion Vintage 30 speakers
16 ohms
Closed Back
Heavy-duty construction
13-ply high-density 18mm birch plywood
Size: 30.7″ x 20.8″ x 15″
Weight: 70 pounds
Price: $749
Mesa Boogie Rectifier Cabinets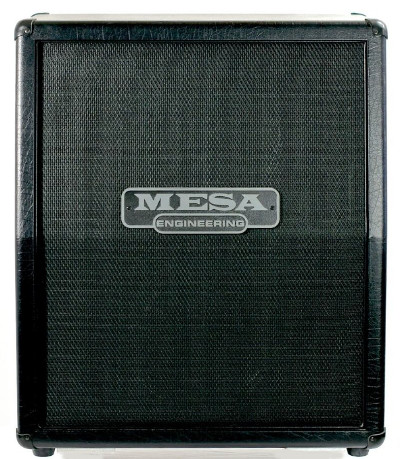 Mesa Boogie is known for making some of the best cabinets on the market, especially when it comes to heavy metal and high gain tones because they sound huge. Mesa cabinets are also among the strongest built cabinets and they retain a higher resale value than most other used cabs.
The specs below are for the 2×12 slant vertical Mesa rectifier cabinet (pictured above) because of its coolness factor. There's also a horizontal model for a bit less, among other variations.
120 watts
2 x 12″ Celestion Vintage 30 speakers
8 ohms
Closed Back
Marine-grade baltic birch
Track-Loc removable casters
Slipcover included
Size: 27.9″ x 23.6″ x 14.2″
Weight: 75 pounds
Price: $779
EVH 5150 III 2×12 Cabinet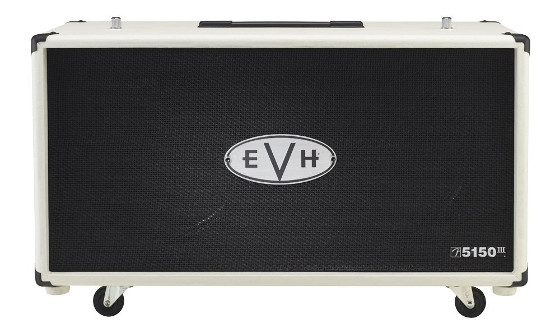 The EVH 5150 III 50-watt head is a popular amp and so it the matching 2×12 cabinet.
Available in black or ivory, the EVH 5150 III 2×12 cabinet features a compact design for easier portability. It comes loaded with 2 Celestion G12H speakers instead of the V30s like the other cabinets on this list.
60 watts
2 x 12″ Celestion G12H 30W Anniversary Speakers
16 ohms
Closed Back
7-Ply 5/8″ Birch Plywood
Tilt-back legs
Head-mounting mechanism
Size: 30″ x 17.5″ x 14″
Weight: 60 pounds
Price: $499
Hughes & Kettner TubeMeister 212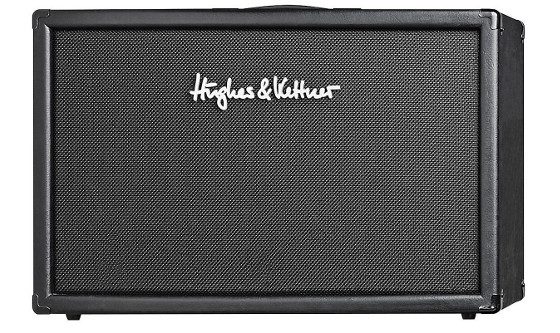 Another popular option for a 2×12 cabinet is the Hughes & Kettner TubeMeister 212. Like similar heavy-hitting cabinets it has a closed-back design and is loaded with 12″ Celestion V30 speakers for a full range tone and powerful low end.
One advantage with the TubeMeister 212 is that it's lighter and easier to move around than similar cabs but it still manages to pack a thick tone.
120 watts
2 x 12″ Celestion Vintage 30 speakers
16 ohms
Closed Back
Dove-tailed birch plywood
Size: 29.5″ x 17.7″ x 11.2″
Weight: 43 pounds
Price: $599
Hughes & Kettner TubeMeister 212
Avatar G212 Contemporary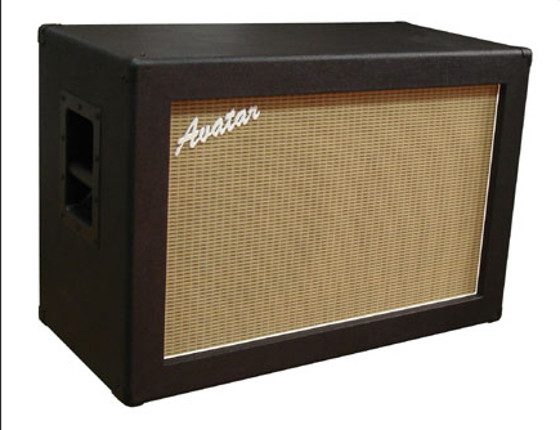 Avatar Speakers have developed a solid reputation as a good inexpensive alternative to the big-name brands.
Avatar sells several different types of cabinets. The Contemporary is the oversized line, similar to the style of the heavy-duty Orange and Mesa cabinets.
The cool thing about Avatar cabinets is everything is fully customizable. You can choose the color, construction method, configuration, open or closed back, and you can choose exactly which speakers you want and you can mix them if you like.
Fully Customizable
Birch plywood
Size: 31″ x 21″ x 15″
Weight: ~65 pounds, depending on speakers
Price: $499
Harley Benton G212 Vintage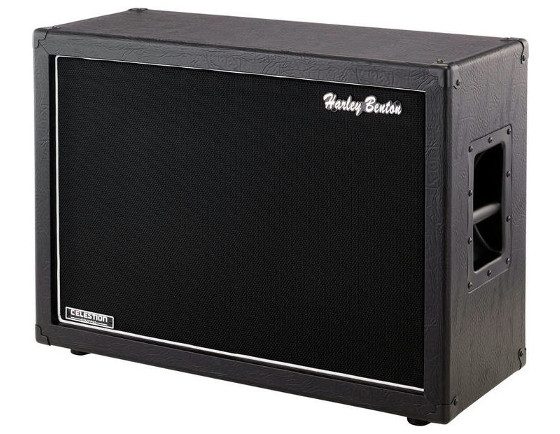 The Harley Benton G212 Vintage cabinet is the darkhorse on this list. It's without question the best value 2×12 cabinet that money can buy. The build quality may not be the best but it's hard to argue with the most important part.
The crazy thing is the HB G212 Vintage comes with two 12″ Celestion V30 speakers just like a high-quality cabinet, and they somehow manage to sell the cab for less than what it costs to buy the speakers alone. It's like walking into the freaking Twilight Zone. Even if you just want V30s speakers it would be cheaper to buy this cab instead of buying the speakers alone. WTF!
120 watts
2 x 12″ Celestion Vintage 30 speakers
8/16 ohms
Mono/stereo switchable
Closed Back
16 mm plywood
Size: 29.2″ x 20.4″ x 11.8″
Weight: 55 pounds
Price: $199 (plus $32 shipping to US)