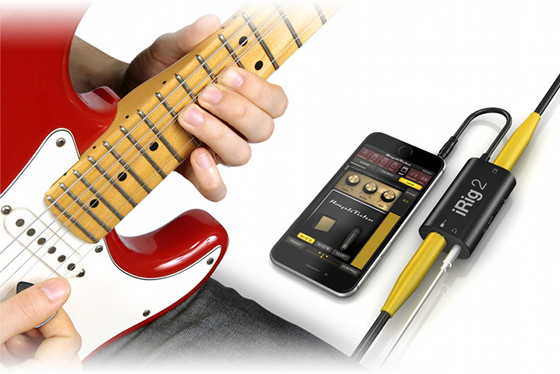 The original iRig has been a best-selling guitar interface adapter for iOS devices (the iPad, iPhone, and iPod Touch) since it first launched in 2010, and now IK Multimedia has released a second generation iRig, aptly named the iRig 2, that introduces some new features and adds support for Android smartphones and tablets.
Like the original, the iRig 2 is a pocket-sized audio interface that lets you plug a guitar or bass into a smartphone or tablet to play music, plus there are apps to choose different amp settings, pre-sets and effects.
New features for the iRig 2 include on-board gain control, a 1/4″ amp output, a new FX/THRU switch, and support for Android 5.0 devices.
Additional features include a 1/4″ instrument input, a 3.5mm headphone jack for connecting headphones, and it comes with a Velcro strip to attach to a microphone stand.
The iRig 2 comes with IK Multimedia's AmpliTube app, an effects processor with an integrated music player, a recorder, a guitar tuner, and a collection of pre-sets for popular amplifiers and stomp boxes. The iRig is compatible with a number of third-party effects apps as well.
One of the things that made the original iRig so popular was the low cost. A lot of other iOS-compatible audio interfaces cost $100 and up. The iRig 2 is listed at the same price, which is $39.99. Of course now the original is on sale for really cheap too, less than $20.
The iRig 2 is currently available for pre-order from retailers like Amazon. The official release date is March 30th.
iRig 2 – Overview Video
via: Liliputing