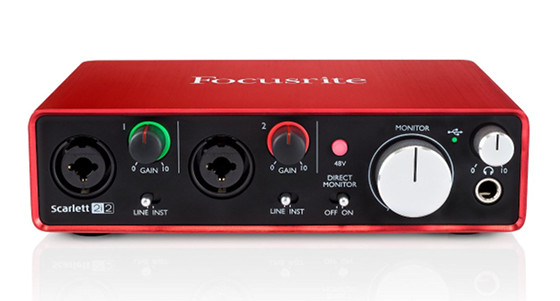 Focusrite released updated drivers yesterday for their 2nd gen Scarlett USB audio interfaces.
The new driver version is 4.11.0. It includes some bug fixes and it adds new artwork to the ASIO control panel.
Here's the list of fixes from the chanelog:
Fixes from 4.8:
Fixed causes of some crashes when using MIDI I/O
Fixed crashes when using WDM audio at higher sample rates/bit depths
Fixed some problems when resuming from Sleep/Hibernate
Last week I had posted about how I'd gone back to using the 1st gen 2i4 over the 2nd gen 2i2 because the 1st gen drivers have less issues, so I was glad to see the new update available.
I haven't had long to test the new 4.11.0 update yet, but I am going to go back to using the 2nd 2i2 again to test it out for a couple of weeks before making a final determination if I want to keep it or not.
One thing I can say is that the new driver does not fix the main problem that I was encountering, but it did help me figure out part of the problem so that I can work around it.
Something about the 2nd drivers don't play well with the CamStudio screen capture program. Using screen capture causes the drivers to go haywire. With Pro Tools it will double the CPU usage, even after the screen capture program is turned off and closed. And then even after the computer is restarted it's still haywire until manually adjusting the buffer size from within Pro Tools. Using the ASIO app doesn't fix it; it has to be adjusted within Pro Tools to get CPU usage back down to normal.
Then I plugged the 1st gen 2i4 back in to test it and using screen capture with it doesn't cause the CPU meter to go up one single percent; it runs perfectly at the same 44kHz/64 samples setting.
After some more testing, something else causes the drivers to crap out too. Even without using screen capture the CPU usage goes haywire with Pro Tools and the buffer size has to be adjusted to fix the problem. Actually pretty much every time I start Pro Tools I have to toggle the buffer size to get it to run smoothly.
So the bottom line is the issue still persists. Not a huge issue but an issue nonetheless, and who knows what can trigger the problems…