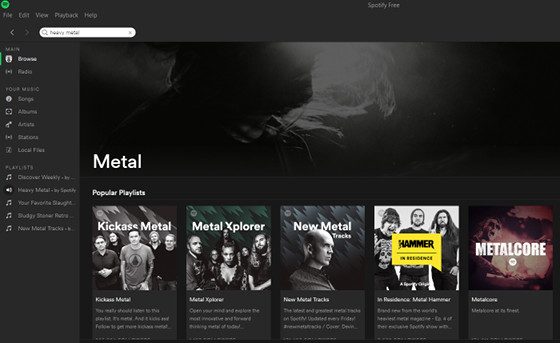 I started to listen to Spotify a few months ago (yeah, I'm late to that party) and it turns out they have a lot of rock and heavy metal music that I've never heard on Pandora, which is what I usually listen to while working.
The problem, however, is that most of the heavy music I hear on Spotify sucks hairy monkey balls. I've yet to find a heavy metal playlist that's actually worth listening to for any length of time.
Everyone seems to like Spotify but I think it sucks.
It's like half of the rock and heavy metal songs I hear on Spotify sound like they were produced by the same studio.
Everything has the same exact type of sound. Most newer songs especially sound the same. The quality of heavy metal music has become increasingly generic.
Nothing stands out about the guitars or music. Most of it is just basic repetitive power chords with some double bass thrown in and some guy screaming the whole time.
Is this what the heavy metal music has turned into? Everything sounds the same. There's no creativity. Song structure is super basic. There's no dynamic range. You rarely even hear a good guitar solo anymore. The whole reason I first got into heavy metal many years ago was because it was a lot more advanced and creative than other genres of music. What happened to that?
Half the heavy stuff on Spotify might as well be played by the same crappy band because it all sounds like the same shit over and over again.
At least Pandora introduced me to some really killer bands like Sylosis and Opeth, and some great instrumental music from bands like Scale the Summit, Animals as Leaders, and Angel Vivaldi, none of which has been played one single time on any of the playlists I've tried at Spotify. I guess they're not generic enough for them. In fact, I rarely come across any familiar metal bands on Spotify's playlists; it's all just a bunch of bands that I've never heard of before with the same generic sound.
If you want to listen to anything good at Spotify you have to manually search for it and create your own playlists. Well, I've got better things to do so it's back to Pandora for me…