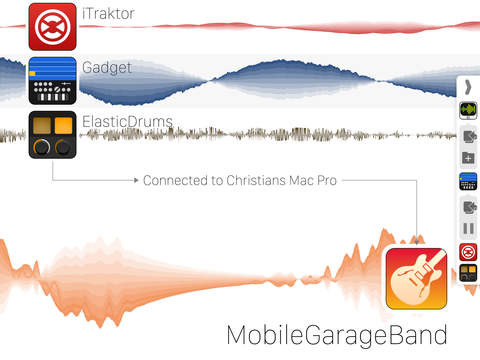 Last week the audiomux app for iPad and iPhone got updated to version 2, and with it came a whole host of new features, including support for Windows computers and third-party app integration.
The way audiomax works is it lets you plug in your iPad or iPhone into your MAC or PC computer via USB with a single lightning or 30-pin cable to connect your iOS device to your DAW.
It eliminates the need for a separate audio interface and having to deal with various cables and adapters.
You can integrate your iOS device into your audio work station and setup it up as a MIDI device and use iOS audio apps, even multiple apps and devices, at one time (see the video below for a really cool tutorial).
Audiomux works with both input and output. You can use it to record samples, loops and effects on your computer and add iOS effects and plugins to projects in your DAW.
Notable features include:
Stream and record audio from your iPad or iPhone to your Mac or Windows computer.
VST & AU support allow you to integrate iOS apps directly into your DAW.
Stream from/to and between multiple devices at once, while using up to 8 separate stereo channels per device.
IAA and Audiobus integration for compatibility with iOS audio apps.
Send channels to easily route apps and effects.
Includes a built-in mixer with controls for Volume, Mute & Monitor.
Low latency via USB.
Here's the link to download audiomux from iTunes. And here's the link to the audiomax installation guide for PC and MAC computers.
The YouTube video below shows how to set everything up and get things working with MIDI and the inputs and outputs, specifically with Ableton Live 9 and a couple of iOS apps, FunkBox and Magellan.
Midimux & Audiomux Walkthrough