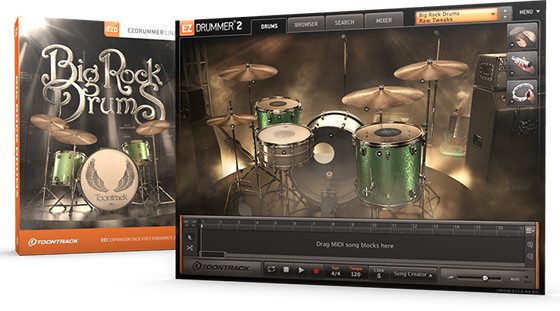 Toontrack has released a new expansion pack for EZdrummer 2 called Big Rock Drums.
The expansion library includes five new drum kits recorded by engineer Dave Cobb and drummer Michael Miley of Rival Sons. The drums were recorded in Cobb's Low Country Sound Studio in Nashville.
The Big Rock Drums expansion was inspired by popular rock bands from the 1970s, such as The Who, Led Zeppelin and Deep Purple.
The expansion is intended to recreate the big thunderous drum sounds of the 70s and earlier but with a modern twist.
The five kits included in the Big Rock Drums expansion are Mayer Bros, C&C Player Date II, Gretsch Broadkaster, Ludwig Superclassic, and Camco Oaklawn.
The Big Rock Drums EZX sells for $89 from Toontrack's website.
An interesting detail that I noticed is they have a new Opeth song called Sorceress as a sound example for the new expansion. They have a note saying that they replaced the recorded drums with sounds from the Big Rock Drums EZX. It sounds good but there's definitely a big difference in the overall tone compared to the original track, which just sounds a lot more Opeth-like to my ears.
EZdrummer 2: Making of Big Rock Drums