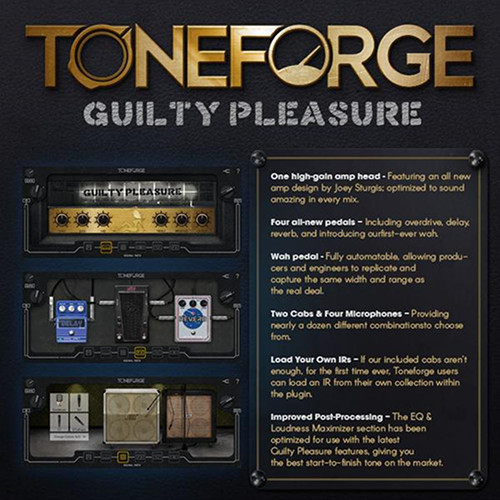 There's a new high-gain amp sim suite available on the market from Toneforge by Joey Sturgis.
The amp sim pack is called Guilty Pleasure. It's the third Toneforge guitar sim pack behind the Menace and Ben Bruce plugins.
The Guilty Pleasure amp sim comes with a custom high-gain amp, four effects pedals, two cabinets, and four mics.
It also includes a built-in EQ, a limiter, and a tuner. Plus it has an IR loader.
The stompboxes that it comes with are an overdrive pedal, delay, reverb, and there's a wah pedal.
According to the description, the sim is designed to create a final mix guitar tone immediately, so it's more of a recording tool than something that is trying to model the tone of specific hardware.
The plugin works with Mac OS X and Windows. It comes in AU, AAX, RTAS and VST formats.
The Toneforge Guilty Pleasure plugin sells for $89 but it's currently on sale for $59 as an introductory offer.
ToneForge Guilty Pleasure Demo
Toneforge Guilty Pleasure Video Manual