There is a surprising number of free limiter plugins available online in VST and AU formats, and even some in AAX format for Pro Tools.
They come with varying levels of features. Some are brickwall limiters, some are soft limiters, and some add extra clipping and compression features.
Some of the free limiters are exceptional, and have a better reputation than paid commercial gear.
Limiter #6 from vladgsound is one of the most popular free options.
There's a clone of a Waves L1 limiter that is also quite popular.
Most DAWs include a limiter plugin as well, but they are can be fairly basic or not as transparent as some of the plugins below.
Paid limiter plugins can cost upwards of a few hundred dollars each, like Waves' Limiter plugins. But you can get pretty good results from these free options as well.
Best Free Limiter Plugins
Limiter No6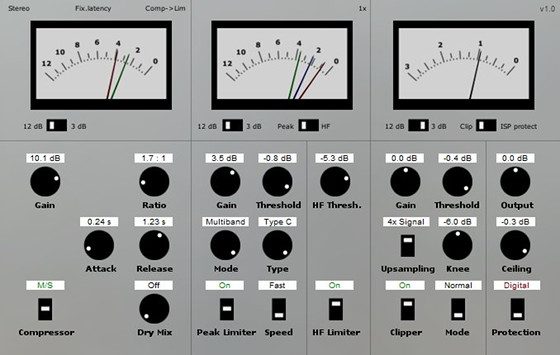 Limiter #6 is a mastering plugin that includes five modules: RMS compressor, peak limiter, high-frequency limiter, clipper, true peak limiter.
It has brickwall and soft limiting features with different timing settings, M/S and multiband modes, 4x oversampling, and more.
Limiter #6 is available in VST and AU formats for Mac and PC in 32 and 64 bit. There are 3 different GUIs (here's the page with all three downloads).
LoudMax
LoudMax is a look-ahead brickwall limiter plugin designed to be a clean and transparent loudness maximizer that retains as much of the original sound of the music as possible. It's a low latency, low CPU usage plugin with an easy to understand interface.
LoudMax is available to download in VST and AU formats in 32 and 64 bit. It works with Windows and Mac OS 10.5 and higher.
George Yohngs W1 Limiter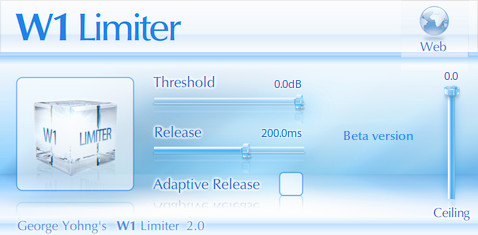 W1 Limiter is an easy-to-use plugin that was cloned from a Waves L1 limiter and boasts identical output. It also features an approximation of Waves L2 with adaptive release enabled.
W1 Limiter is available in VST, AU, and RTAS formats for windows and Mac (OS X) and it comes in both 32 and 64 bit.
EasyLimiter

EasyLimiter is a free, donationware VST limiter for Windows that features look-ahead peak detection, stereo link, and a number of other features. Its claim to fame is that it uses less CPU than other limiters.
EasyLimiter comes in VST format only and works with Windows 32 and 64 bit systems.
ClipShifter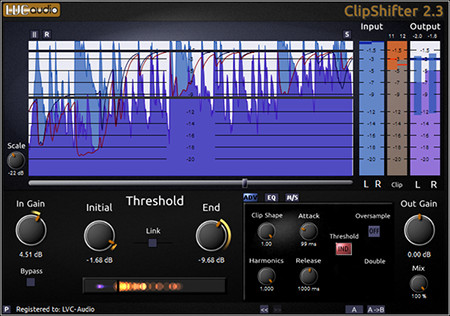 ClipShifter is a clipping style limiter that can go from transparent compression to hard clipping distortion. It offers controls for clip shaping and harmonics, it has a waveform display, and is low on CPU usage.
There are free and paid versions of ClipShifter. The free version is fully-function; the paid version adds extra features like mid/side processing, oversampling, independent frequency clipping, etc.
ClipShifter is available in AU, VST, VST3, RTAS, and AAX formats for Windows and Mac, both 32 and 64 bit.
Xhip Limiter

According to the website description, Xhip Limiter is designed for maximal sustain and minimal distortion, and aims to be as transparent as possible in terms of timbre.
The Xhip Limiter plugin is available for Windows only, both 32 and 64 bit.
Faraday Limiter
The Faraday Limiter from Goodhertz is described as having colorful dynamics with warm, tape-like saturation. It features advanced stereo linking, variable L/R or M/S linking, adjustable ratios, and a gain reduction history meter.
Goodhertz plugins are only available in AU and AAX formats for 64-bit Macs with OS X 10.7 and up.
L2007 Mastering Limiter

According to the description, the L2007 is a mastering-grade look-ahead brickwall limiter. It's made by Massey Plugins and is offered free with Massey's other plugins but the free versions have limited features.
However, this one of the few free limiters that is available in AAX format for Pro Tools. Both Mac and PC are supported.
Maxwell Smart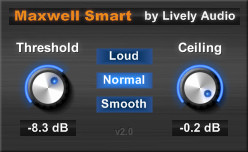 Maxwell Smart is simple limiter plugin that claims to be a true transparent peak limiter and loudness maximizer with look-ahead functionality designed to increase loudness while maintaining transients without audible distortion.
The plugin features 3 modes to control the sound: smooth, normal and loud, and the compensated latency is 4ms. It's available for Windows and is 32 bit only.