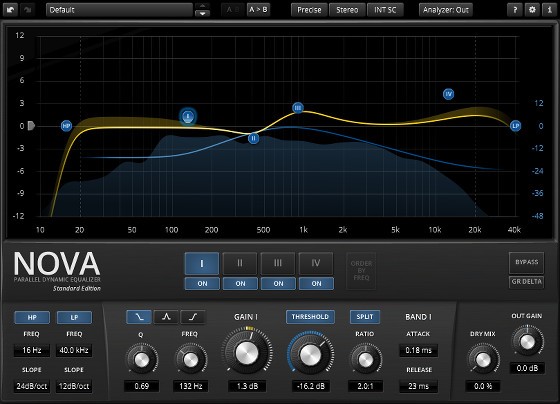 Last month the Bedroom Producers Blog posted a list of the Top 50 Freeware VST Plugins of 2015. It's a great list with a bunch of truly exceptional free plugins.
The #1 effects plugin is TDR Nova, a really nice parallel dynamic equalizer. I'd been looking for a good multi-band parametric EQ with a built in analyzer for months, and TDR Nova fits that bill perfectly.
It was just released a couple of months ago, so not a lot of people know about it yet.
It's available in VST, AU, and AAX formats for PC and Mac, with support for 32 and 64 bit.
There's also an upgraded paid version called TDR Nova Gentleman's Edition that adds more features for € 40.
TDR Nova has a very clean and easily-understandable UI.
The free version includes four dynamic EQ bands, highpass and lowpass filters, a spectrum analyzer, equal loudness functions, handy undo/redo and a/b buttons, and plenty more.
You can download the free TDR Nova plugin from the Tokyo Dawn website.