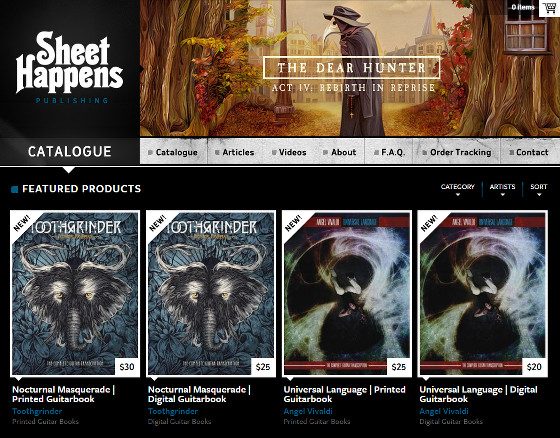 I was recently looking for some guitar tab books for heavy metal bands, but the big name tab publishers don't seem to offer much except Metallica and old school mainstream metal.
Then I happened to come across a website called Sheet Happens that sells high-quality print and digital guitar tab books for bands with some of the best metal guitarists on the planet (they also have some books for bass and drums).
One of the coolest things about Sheet Happens is they actually collaborate with each guitarist to make sure the tab is 100% correct.
You can purchase digital PDF versions of the guitar books or high-quality ring-bound print editions with nice artwork.
Print books come with PDF copies too, and each purchase comes complete with Guitar Pro 6 files as well.
Free guitar tab websites ruined online tab years ago, and now trying to search for anything tab-related always circles back to them, even if all they have is a placeholder page with no tab on it.
I don't mind paying for good quality, accurate tablature once in awhile to learn some new note combinations and finger patterns, especially when it comes to fast, complicated metal licks that take forever to figure out.
It's good to see a small company like Sheet Happens taking tab seriously and putting out some high-quality tab for some of the best metal bands that don't get any respect from mainstream tab publishers.
According to their about page, the company was founded by members of the band Protest the Hero because they wanted to create a way to offer tab for their own music after the mainstream tab publishers ignored their requests.
Check out the Sheet Happens website for some of the best metal tab books available. They charge in Canadian dollars but that actually works out cheaper if you're in the US.
They have tab books for Darkest Hour, Sylosis, Periphery, Unearth, Angel Vivaldi, Plini, Protest The Hero (obviously) and a lot more.