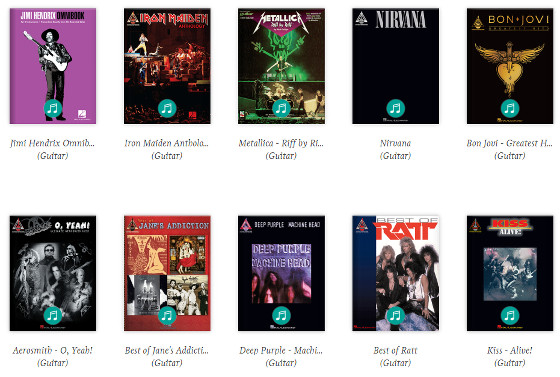 Last month Scribd added sheet music to their ebook subscription service, which costs $8.99 per month.
Their collection of sheet music contains a bunch of stuff for guitar and piano, but they have sheet music for just about everything, including drums, brass instruments, woodwinds and other fretted and stringed instruments.
When I first saw this I was shocked by how many good guitar books are offered. They have tablature too, of course.
They have a Guitar Heroes collection, and it's just the tip of the iceberg. There are lots of classics, including the Jimi Hendrix Omnibus, Metallica, Stevie Ray Vaughan, Kiss, Pink Floyd, and Lynyrd Skynyrd.
There's lots of newer stuff available as well, like Avenged Sevenfold, Bullet for My Valentine, and Trivium. There's also a ton of mainstream wussy stuff that I'd never touch with a ten foot stick, like Green Day, Justin Beiber, Maroon 5, Blake Shelton, Taylor Swift, and the Beatles.
Whatever your style, it's a great way to get access to a boatload of digital sheet music, and it's the really good sheet music books that are published by Hal Leonard, not the crappy tab you find online written by some twelve year old.
The way Scribd works is subscribers can download and read an unlimited number of books from their catalog. The books work with the Scribd app for iPad/iPhone and Android. They also work with web browsers from a computer. The $9 per month also includes access to a few hundred thousand ebooks and some audiobooks as well.
One thing I like is you can preview each sheet music book before subscribing, so you could learn the first few pages for free if you wanted to. But what I really like about that is it lets you see what tuning the guitarists are using, at least for the first song. There's nothing more I hate than buying a tab book only to find that the band uses some weird ass tuning for all their songs (like Pantera). But at least when you have unlimited access to tab books that doesn't matter so much; just delete it and find something else.
Another cool thing about their setup is everything is separated into different sections for different instruments. Plus there's a difficulty rating so you can get an idea of how hard/easy the particular book is to learn how to play.