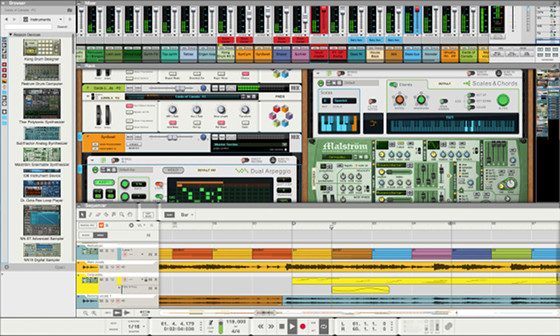 The folks at Propellerhead Software have released a new updated version of their digital audio workstation, Reason 9, for Windows and Mac computers.
Reason 9 adds three new Player devices, a thousand new sounds, and some new production tools and workflow improvements to help make music creation easier and faster.
There's also a new audio to MIDI feature that sounds interesting, and new visual themes to change the color of the interface.
Reason also has a new Pitch Edit mode to help improve vocal performances by fixing out-of-tune notes, adjusting timing and vibrato, and modifying dynamics. The audio to MIDI feature works with vocals as well to create new sound possibilities.
Some Reason 8 owners are a bit ticked-off with the new update, but it seems to be a big improvement for those coming from Reason 7 or lower.
Here's more from the press release about the three new Player devices:
Note Echo creates rhythmic, pitched MIDI delays for melodies, drum rolls and more. Scales & Chords turns simple melodies into harmonies. Transpose notes to a selected scale and automatically generate chords for a song. Dual Arpeggio transforms chords into intricate and inspiring rhythms. From classic up-and-down to polyphonic and polyrhythmic.
Reason 9 is available now; it was officailly released on June 21st, 2016. The full version of Reason 9 costs $399, an upgrade from a previous version costs $129, and the entry-level starter package, Reason 9 essentials, sells for $69.
Video: Reason 9 New Features – In Depth