There are many different types of ways to create music in this day and age. You don't need to own any expensive recording equipment or complex software because making professional-sounding music has become as easy as downloading an app to a smartphone or tablet.
Ninja Jamm has been a popular loop-based music making app for iOS devices since it was released back in 2013. Now Ninja Jamm is available on Android tablets and phones too, and it's a lot more advanced than it used to be.
The app comes free with two free sample packs from Loopmasters, Essential House and Heavy Bass Trap, along with a couple of additional free packs from Coldcut and Roots Manuva.
There are a bunch of other packs to buy as well for $1-$6 using in-app purchasing.
Ninja Jamm plans to release new sample packs each month from their partners at Loopmasters, and they regularly release free packs that are submitted by members of the Ninja Tune network.
They even plan on giving users the option to load their own custom samples into the app in the future, which would be really cool. The development team is also working on something called Mobile Orchestra, where multiple apps and devices can all be connected together and synced to play over WiFi so that you can jam with friends using different apps, instruments, and devices.
It's kind of hard to explain how Ninja Jamm works exactly; it's best to watch some video demos to get an idea of how to operate the app.
Basically, Ninja Jamm gives you the power to create studio quality music from a variety of drum beats, bass lines, synths, effects, loops and sounds from a number of different genres. You can create your own songs as your own copyrighted material.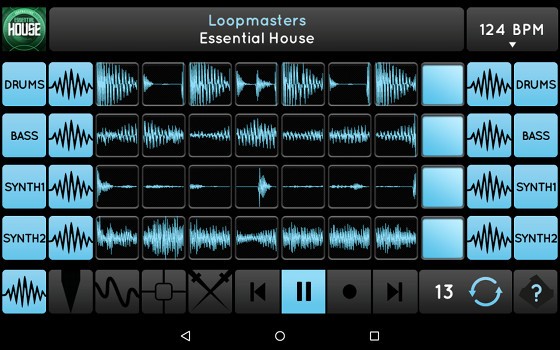 The app breaks down the different parts of a song and lets you quickly change between a variety of samples. Thanks to the tilt and touch sensors on mobile devices you can interact with music in various ways.
As the Ninja Jamm description states: "You can touch, swipe, tilt and shake your mobile device to cut, glitch, mash and mix in 1000 different ways. Dive in and start creating your own electronic music: It's Your Rhythm."
Another fun thing about Ninja Jamm is there are remix competitions where you can download the current competition TunePack from the appstore and create your own custom mix and enter it to win prizes.
There aren't nearly as many music creating apps on Android as there are on the iOS platform, so it's great to see Android devices getting some musical love from Ninja Jamm. Plus this app is a hell of a lot more fun than wasting time playing a game like Angry Birds or Candy Crush for the umpteenth time.
The Ninja Jamm app can be downloaded for free at Google Play. It works with Android phones and tablets that run Android 2.3.3 and up.
Ninja Jamm is also available for the iPad and iPhone from the iTunes appstore.
Ninja Jamm Video Demo
via: The Creators Project