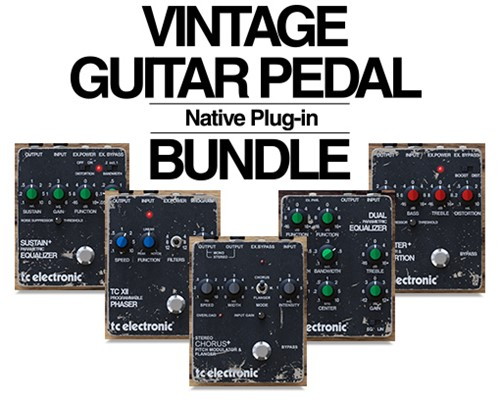 TC Electronic has released a new collection of vintage guitar pedal plugins that emulate their first five classic pedals that are no longer available to purchase.
The plugins include simulations of their stereo chorus+ flanger, booster+ distortion, TC XII phaser, dual equalizer, and sustain+ equalizer pedals.
The Vintage Guitar Pedal Bundle is available for Mac and Windows computers in VST, AU, and AAX formats.
The odd thing is you have to buy the whole bundle; you can't just buy individual pedals.
Also the price seems kind of high compared to other pedals sims on the market at $149 for the five, with a $99 intro offer until the end of the month, but they do sound pretty good in the video. There's a 14-day demo if you want to try them out.
Here's a list of the included pedal plugins:
Stereo Chorus+ Flanger Native: Chorus / Pitch Modulation / Flanger modes.
Booster+ Distortion Native: Clean boost with EQ / distortion with EQ modes.
TC XII Phaser Native: Smooth and thick phaser goodness with 4 / 8 / 12 filters.
Dual Equalizer Native: EQ for sculpting perfect tone.
Sustain+ Equalizer Native: From subtle to extreme – at the tweak of a knob. Endless sustain with sophisticated EQ.
Vintage Guitar Pedal Bundle
via: KVR Audio