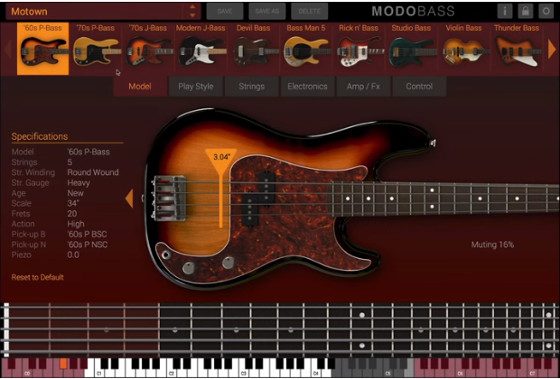 Earlier this week IK Multimedia unveiled a new virtual bass instrument plugin called MODO Bass that they've been working on for the past eight years.
MODO Bass offers a wide range of bass sounds and customizations. It includes twelve popular bass models, two amps, seven stomp boxes, and a bunch of playing style settings.
You can even change what size and type of strings to use and how thick the pick is and the style of the pick attack.
You can also swap out pickups and customize their position under the strings.
MODO Bass gets released in November 2016 for PC and Mac.
It has the potential to be one of the best virtual bass software plugins available. For me it's much easier and faster to just play a real bass so I can't help but be a little disappointed that IK still hasn't updated their bass offerings in Amplitube in forever.
You can pre-order MODO Bass from the IK Online Store for an introductory price of $149. Once MODO Bass gets released it will sell for $299, or $199 as a cross grade if you've purchased any IK software over $99 before.
Here are a bunch of YouTube videos from IK showing the MODO Bass plugin in action.
MODO BASS – Overview
MODO BASS Models, Presets – Part 1
MODO BASS Models, Presets – Part 2
MODO BASS – Play Style
MODO BASS – Amp / FX
MODO BASS – Strings