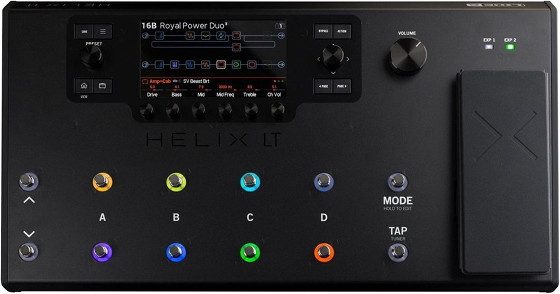 Line 6 has released a new cheaper version of their flagship Helix multi-effects processor called the Helix LT.
It's a trimmed down version of the original but it still includes all the same sounds and effects, with 62 amps, 37 cabs, 16 microphones, and 104 built-in effects.
The new Helix LT sells for $999; that's $500 less than the Helix Floor and $400 less than the Helix Rack.
Like the more expensive versions, the Helix LT features a dual DSP HX modeling engine and a 6.2-inch LCD display.
It has 12 footswitches, with 8 inputs and 8 outputs, along with an expression pedal, an integrated looper, and tons of tweaking options.
Line 6 is also going to be releasing a desktop plugin version called Helix Native with the same sounds and effects soon.
Line 6 should've just ditched their Spider modeling altogether and put the HD gear in the amps instead and focused more on this better Helix stuff.
Here are a couple of early YouTube videos with a first look at the Helix LT:
Line 6 Helix LT Overview
Line 6 Helix LT Guitar Processor