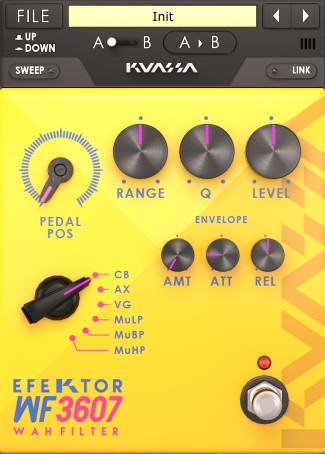 Kuassa has just released a new wah pedal plugin called the Efektor WF3607 Wah Filter.
I've been a big fan of wah pedals ever since I heard Black Sabbath's Electric Funeral.
The Efektor Wah is the best-sounding wah plugin that I've come across.
Previously I'd been using the Morley wah in Amplitube but I did a quick side-by-side comparison and the Efektor wah sounds way better at the default setting than anything I can get out of Amplitube's wahs.
It has a nice classic wah sound without muddying the tone and adding hiss and noise. I have a real cry baby wah that picks up radio stations so yeah this is definitely an improvement over that too.
The Efektor wah plugin sells for $25 normally but there's an intro offer that takes the price down to $19. That's pretty steep for a single pedal plugin but it does have 6 wah types, 3 pedals and 3 filters.
The three pedal settings are based on the Dunlop Cry Baby, the Vertex Axis Wah, and the Vox Grey Wah. The three other settings are based on the Mu-Tron III envelope filter.
The Efektor wah plugin is available in VST, VST3, AU and AAX formats, and there's also a rack extension for Reason. If you like wah-wah pedals it's worth downloading the demo to test it out. I'm using it with a FBV Express foot controller and it works well. In the video demos it looks like Dimi is using this M-Audio Expression Pedal that sells for $23 at Amazon.
Efektor WF3607 Demo
See this post at KVR for more demos.