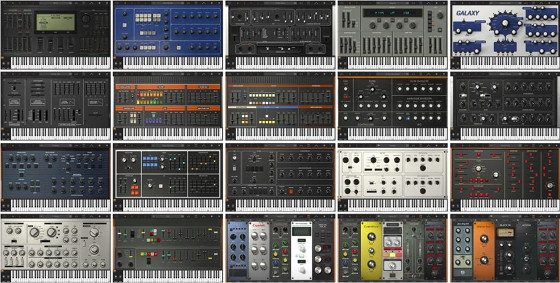 IK Multimedia has announced the upcoming release of a new software product called Syntronik.
It's a sample-based virtual synth collection that includes 17 different instruments that can be purchased as a bundle or separately.
The instruments are based on 38 synths and string machines and come with over 2,000 presets and 50GB of sounds.
Syntronik also has an analog modeled filter section and "DRIFT" technology for added realism and authenticity.
A collection of 38 effects are included with Syntronik as well, based on the stuff from T-RackS and AmpliTube.
Synths can be a lot of fun to play with, as I've been finding out lately. You don't need hardly any keyboard skills to come up with some cool sounding shit.
Syntronik gets released in July. Until then IK has a pre-order promotion where they are offering if for half price. That puts it at $149. Or you can get it for $99 as a crossgrade if you've purchased something from IK before for $99 or more. You can also use JamPoints to get the price down to $70—seems like a great price for all that is included, but the catch is there isn't a demo to try out yet, just a few YouTube videos from IK.
IK's Syntronik Videos