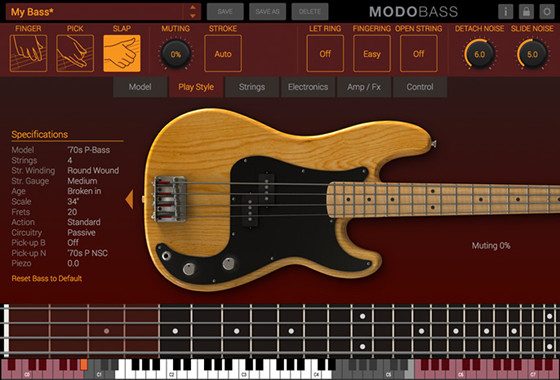 IK Multimedia's MODO Bass software was released a couple months ago, and everyone seems to really like it—all the early reviews have been very positive.
Watching some YouTube videos gives a pretty good idea of how it sounds and works, so I decided to put together this quick post with a roundup of video reviews and demos.
If I hadn't just bought a new 5-string Squire VM Jazz Bass a few months ago I probably would buy MODO Bass.
Except I'm a better guitar player than a keyboard player so that doesn't help (which isn't saying much since I can barely play keyboard).
But it's hard not to see the value of a plugin like this after watching a few video reviews. It definitely looks like fun to work with and the sound is impressive.
There are a ton of features to customize the tone. Here's the main list from IK's website, followed by several video reviews:
MODO Bass Features
The first physically modeled electric bass virtual instrument
Groundbreaking real-time modal synthesis technology — no samples used to create sound
Recreate virtually every electric bass sound imaginable
12 iconic bass models that span the history of recorded electric bass
Models the entire act of playing an electric bass – player, instrument, FX & amp
Ultra-small memory footprint
Choose playing style — pluck, slap and pick
Freely move the playing hand for realistic performance
Customize string force, fingers used, pick thickness & technique
Customize string number, scale, tuning, gauge, construction, action, age
20 faithfully recreated, interchangeable iconic bass pickups with volume
Choose active or passive electronics with parametric EQ
Under-bridge piezo pickup with blend
7 bass stomp box effects configurable in 4-slot chain
2 iconic bass amps – Solid State and Tube derived from AmpliTube
FX and amp global bypass for routing
Optimized resizable interface
Works as a 64-bit plug-in or standalone instrument for Mac/PC
Full MIDI control with MIDI learn, keyswitches
Full DAW automation control support
IK Multimedia MODO Bass Review
Another MODO Bass Review
IK Multimedia Modo Bass – TEST
MODO Bass Machine Gun Test
Below is a roundup of 15 different videos from IK demoing various features and showing how their bass modeling software works.
Playlist: IK's Demos of MODO Bass