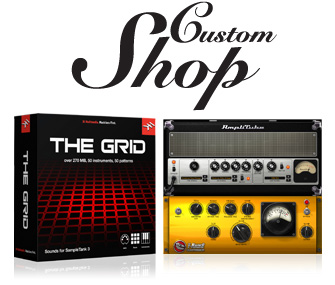 To help celebrate their 20th anniversary, IK Multimedia is giving away some good quality gear along with some free gear credits to spend on whatever you want.
The giveaway promotion lasts throughout March 2016. Anyone can claim the free gear and credits; all you need is an IK user account or new users can start an account.
To claim the gear and credits/Jampoints, all you have to do is login to your IK account via the User Area.
The directions at IK spell out some additional steps but all I had to do was login.
A message popped up detailing all the free gear. The funny thing is IK didn't mention anything about getting free Jampoints on the promotion page but it turns out you get 20 for free as well (Jampoints are kind of confusing but basically they can be used to get promo codes for a percentage off your purchase).
Here are your free 20th anniversary gifts from IK Multimedia:

3 pieces of free AmpliTube Custom Shop gear (worth $/€50)
SampleTank 3 The Grid sound collection (worth $/€40)
T-RackS Classic Compressor (worth $/€50)
20 Gear Credits that you can use in the Custom Shop
20 JamPoints
The amp that they are giving away is a popular classic, the American Tube Vintage amp, which is based on the Fender Bassman. Its 4×10 open vintage cabinet is included as well.
The free stomp box is the Harmonator, which is currently their #2 top-selling pedal so that's a pretty good one to get for free.
Here's the description for the Harmonator: This effect is a 3 voice digital harmonizer effect. More than just a pitch shifter, this pedal will create 3 separate harmony voices with independent interval values based on a musical scale. Simply select the scale to use, select the voice and the desired pitch and play. The harmonized notes will be according to the selected scale.
The free software for SampleTank called The Grid is a collection of sounds tailored toward beatmakers and electronic music producers, with 30 one-shot electronic drums, 20 construction/inspiration kits, and 50 midi patterns.
The last bit of gear is the Classic Compressor for T-RackS, which seems to be pretty popular with users.
My favorite thing is the free gear credits. It's basically like getting $20 to spend on whatever gear you want. I think I'm going to spend it on the Morley Contour Wah. I demoed a bunch of different wahs and that was by far the best one, but $25 for one pedal seemed a bit steep. Now I'm glad I held out. 🙂