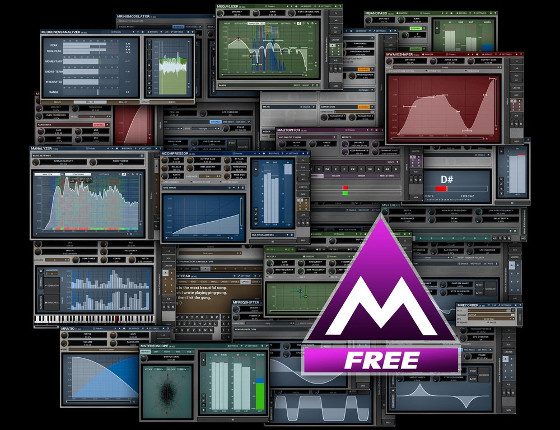 If you're just getting into music production and don't have a lot of money to spend on a bunch of different plugins to give your music a professional sound, Melda Production offers 30 free quality plugins that cover a wide range of functions.
The free plugin pack is called MFreeEffectsBundle. It's available for PC and Mac computers in VST, AU, and AAX formats with both 32 and 64-bit options.
The free plugins have some limitations, like not being able to save presets, and they display a big red Melda Production banner, but they're still really good options for being freeware.
An upgrade can be purchased for €49 (about $55 USD) to unlock additional features and to get rid of the red banner.
They also sell a whole bunch of commercial plugins; the free plugins are a way to get customers interested.
The nice thing about the installer is it lets you pick and choose exactly which Melda plugins you want to install, so you don't have to install everything if you don't want, including demos of their paid plugins.
Then you get to pick what kind of interface and colors you want to use; they're a lot more customizable than most other plugins, even the free versions.
Here's the list of free plugins included in the MFreeEffectsBundle:
MAGC – A simple but powerful utility that adjusts the loudness to match the side-chain.
MAnalyzer – An advanced spectral analyzer and sonogram featuring normalization, super-resolution…
MAutoPitch – A great sounding automatic pitch correction plugin with some cool creative features.
MAutopan – A classic automatic panner with adjustable shape oscillator technology.
MBandPass – A powerful filter plugin with high-pass and low-pass filters and slopes up to 120dB/oct.
MBitFun – A serious tool for extreme distortion lovers that lets you do all sorts of bad things to bits!
MChannelMatrix – A powerful utility which lets you mix and reroute the channels from both inputs.
MComb – An extremely powerful multi-comb filter plugin with 2 super-powerful modulators.
MCompressor – A powerful compressor with custom processing shape and many other unique features.
MEqualizer – An extremely easy-to-use, powerful 6-band equalizer with analyzer, sonogram and much more.
MFlanger – A versatile flanger with top-class sound, variable oscillator shape and many other features.
MFreqShifter – A powerful frequency shifter for everything from mild stereo expansion to complete destruction.
MLimiter – A smooth saturation in a definitive tube-like way improving the clarity of the resulting sound.
MLoudnessAnalyzer – An EBU R128 and ITU-R BS 1770-3 compliant loudness meter featuring everything you could need.
MNoiseGenerator – A powerful noise generator featuring white & pink noise and a few probabilistic generators.
MNotepad – A simple text editor, which you can use to store comments, lyrics or just any text.
MOscillator – An generator plugin with adjustable oscillator shape, completely free of aliasing.
MOscilloscope – Powerful oscilloscope equipped with a pitch detector; it saves time, because it just works.
MPhaser – An phaser effect plugin with adjustable oscillator shape, up to 100 filters, saturation…
MRatio – A simple utility that lets you crossfade between the main input and sidechain.
MRecorder – A simple utility for a simple job – record the plugin input into a WAV file, saved to disk.
MRingModulator – Classic ring-modulation effects using two oscillators with customizable shapes.
MStereoExpander – A basic M/S stereo field correction, fully mono compatible.
MStereoScope – An advanced stereo field analyzer, which lets you solo mid, side and separate channels.
MTremolo – A definitive tremolo sound with an adjustable shape, handling up to eight channels of surround audio.
MTuner – A simple audio pitch analyzer designed mostly for tuning guitars and other instruments.
MUtility – Volume, panorama, phase inversion, stereo swapping, a DC blocker, delay, RMS and envelope…
MVibrato – A versatile vibrato with customizable shape, handling up to 8 channels of surround audio…
MWaveFolder – An analogue-inspired distortion module with a unique character ranging from mild harmonic enhancement to a complete sound destruction.
MWaveShaper – A waveshaper that lets you construct your own shape and features lots of other goodiess.