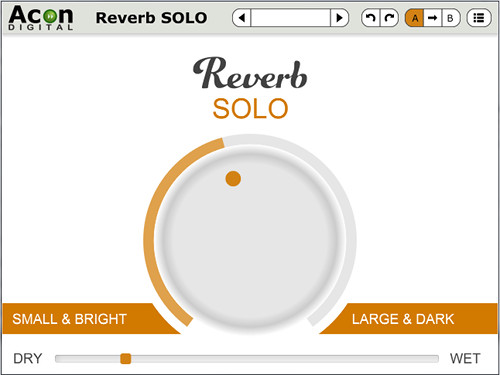 A new free reverb plugin called Reverb Solo has been getting mentioned a few different places online the last few days so I thought I'd download it and try it out.
There are already several free reverb plugins available from various plugin developers but Reverb Solo is one of the easiest to use and it sounds surprisingly good.
I tried it with a few guitar tracks and it worked so well that it may just become my favorite free reverb plugin.
I like the simplicity of the plugin. It has just one knob and a wet/dry slider.
The knob gradually adjusts the reverb from small and bright to large and dark. Then the dry and wet slider lets you customize how much reverb to apply to the signal.
The Reverb Solo plugin also has a preset browser, undo/redo, and A/B comparison functions.
The plugin was developed by Acon Digital exclusively for Reverb.com (given the name, that makes sense).
All you have to do is sign in with a free Reverb.com account to download the free Reverb Solo plugin. It's available for PC and Mac computers in VST, AU, and AAX formats, in 32 and 64 bit.
Along with the Softube Saturation Knob, both are very nice one knob plugins.
Acon Digital Reverb Solo Plugin Demo