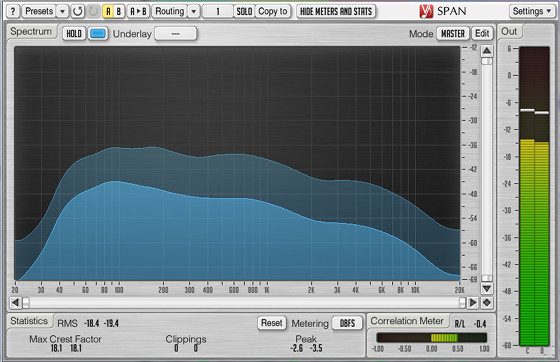 Recently I came across a free spectrum analyzer plugin that is extremely useful. I had tried looking for a good free spectrum analyzer plugin in the past and somehow missed this one.
The free plugin is called Voxengo SPAN.
It's available in AudioUnit, AAX, VST and VST3 formats, and comes in both 32 and 64-bit.
The plugin is actively supported so that's a plus. It was last updated in February 2016 to version 2.10.
The Span plugin supports multi-channel analysis and can display spectrums from two separate channels simultaneously with several different color choices for the spectrum.
Span Tips
Narrow-band Sweeping – Activate by holding Ctrl key (Command on Mac) while left-clicking and dragging the mouse.
Freeze – Click the "Hold" button to freeze the spectrum for closer analysis.
Copy Frequency – You can right-click anywhere on the spectrum to copy the exact frequency to paste in another plugin.
Zoom In/Out Toggle – You can zoom in and out using the sliders to the right and bottom of the spectrum analysis window, and then toggle between the two zoom views by double-clicking the diamond-shaped icon at the lower right corner.
Larger Screen – Toggle to larger screen view by tapping the "Hide Meters and Stats" button.
UI Zoom/Colors – You can increase and decrease the overall size of the UI by going to Settings, as well as change the color of the UI.
Voxengo SPAN Video Tutorials
Below are a couple of YouTube videos to help get setup and familiarized using the free Voxengo SPAN plugin.