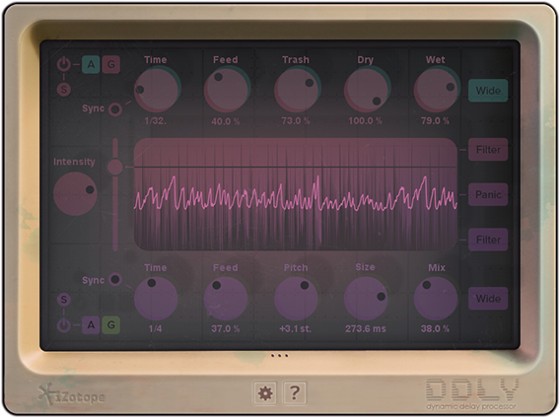 I've been on the hunt for a good free or inexpensive delay plugin effect for several months now, and finally iZotope has filled that need nicely with their DDLY Dynamic Delay plugin.
There is a catch, however. The iZotope DDLY Dynamic Delay is only free until March 10, 2016. It's a new plugin and they are trying to get the word out before the price goes up to $49.
So it's not really a free plugin, and it doesn't have a limited set of features compared to the paid version because it is the commercial version that just happens to be free for the first month of its existence.
I did some testing with it yesterday and it's by far the best-sounding free delay plugin that I've come across yet, so it's definitely worth downloading.
The iZotope DDLY Dynamic Delay plugin features two delays in one, with a top delay and a bottom delay, and you can adjust the intensity between the two, so you can increase the delay on high or low parts separately to make it stand out more.
Both delay modules have two modes for analog and grain, and it fully supports automation as well.
iZotope DDLY Dynamic Delay Video Review
The delay plugin can be used on all kinds of instruments, including guitars, drums, vocals, synths, and just about anything else you can think of as well. It's more versatile than most other free delay plugins out there, and it doesn't have that dreadful metallic sound like some delays.
The UI could use some refining but the sound is the most important thing, and it sounds good. The UI has a washed-out retro look that's kind of cool but it majorly cuts down on contrast, making it somewhat difficult to read.
You can download the DDLY Dynamic Delay plugin for free from iZotope through March 10th, 2016. It is available for Mac and PC in VST, AU, RTAS, and AAX formats in both 32-bit and 64-bit versions.