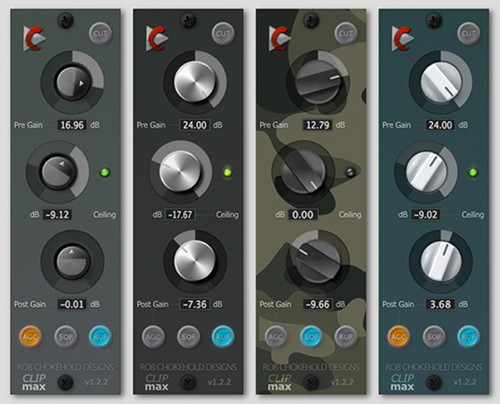 There are are number of clipper plugins available out there, some free and some paid, and some DAWs come with them preloaded.
Recently I came across a free clipper plugin called Clipmax, shown above with the different downloadable skins. I figured it was worth trying before paying for something else. So far it's getting the job done.
Clipmax is an easy-to-use plugin with three knobs, one for pre gain and one for post gain adjustments, and another that lets you set the clipping threshold from 0dB all the way down to -24dB.
There's also an auto gain switch (the AGC button), a dedicated bypass button (Cut), and the option to switch between two different clipping modes, rough and soft.
The auto gain is designed to help keep a natural volume level similar to that of the source. SOF mode is tamer and hard to clip so it's recommended to set the ceiling at -0dB.
Clipmax User Tips
Pre gain boosts the incoming signal.
Post gain adjusts output level after clipping.
Ceiling sets maximum signal threshold.
Light next to ceiling knob flickers to indicate clipping occurrences.
AGC button turns on/off auto gain compensation.
Cut button activates plugin bypass.
SOF sets plugin state to Soff (soft) mode.
RUF sets plugin state to Ruff (rough) mode.
Clipmax is currently a free plugin that is available in VST2, VST3, and AU formats for 32-bit and 64-bit systems. It works with both Windows and Mac computers.
Here's the link to download Clipmax directly from the developer's website at Chokehold.net.