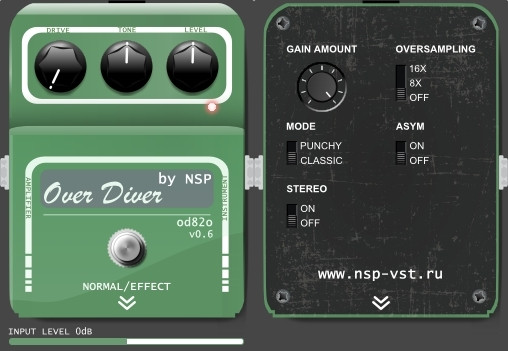 This past week has been all about shopping for Black Friday and Cyber Monday, so if you're tired of spending money here's a pedal plugin that you can download and use completely free of charge.
The new free overdrive pedal is called Over Diver od82o and it was created by a Russian developer that goes by the name NSP.
Here's the link where you can download the Over Diver od82o plugin.
It's available in VST format only and it works with Windows 32 and 64-bit systems.
The pedal has the usual knobs on the front for drive, tone, and level, but it also adds some advanced features on the back.
You can control the gain amount, adjust the input level, switch oversampling from off to 8x and 16x, there's a stereo mode switch, two modes for punchy and classic, and a switch to choose between symmetrical and asymmetrical clipping.
If you like free guitar pedal plugins it's worth checking out. It has a different flavor than other overdrive and tubescreamer pedals out there, such as the free TSE 808 pedal.