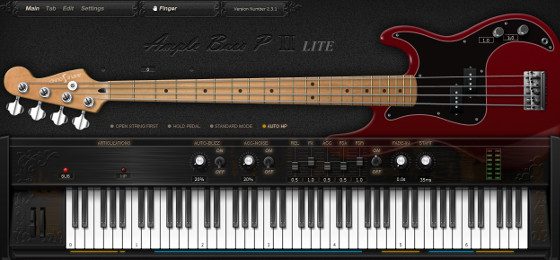 The folks at Ample Sound released a new free plugin this past week that emulates the Fender Precision Bass, one of the most popular basses of all time.
The plugin is called Ample Bass P Lite II. You can download and install it for free, no account setup or email address required.
The plugin is available in AU, VST, AAX, and RTAS formats, and they also offer a free acoustic guitar plugin as well, the AGM Lite II.
There's a standalone application that you can use to run the program on your computer too without having to use a DAW.
The free version of the P-Bass plugin works down to drop D tuning, and it supports the following articulations: sustain, hammer-ons & pull-off, and accents.
The paid version adds more features and more articulations, like palm mutes, slap, staccato, harmonics, slides, etc. And it was goes to drop B tuning.
The free version even has a tab player that supports several tablature formats that you can load and play, which is pretty cool. It comes with some sample tabs for different genres that you can load up and play right away.
Video: Ample Bass Precision Lite 2 (ABPL)