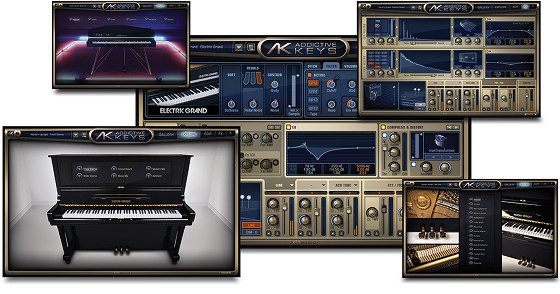 Focusrite has teamed up with XLN Audio to giveaway a free Addictive Keys virtual instrument to all owners of Focusrite audio interfaces and all Novation controller keyboards, including the Novation Launchpad Pro.
The free Addictive Keys instrument is available for new customers as well as existing customers.
If you have registered hardware, all you have to do is login to your Focusrite account to get access to the freebie.
You get one full Addictive Keys license per account that you can use on any of the four Addictive Keys instruments.
There's a Modern Upright, Studio Grand, Electric Grand and Mark One to choose from.
The Addictive Keys plugins are available in all the common formats—VST, AU, and AAX (32 and 64-bit)—and can also be used as a standalone program.
Owning a Focusrite audio interface just keeps getting better and better all the time. It's amazing how much good quality free gear they've been giving away.
These piano instruments normally sell for $90 each so being able to get one for free is a nice perk.
The hardest part is trying to decide which of the four to choose.
Here's the page at XLN Audio with their Addictive Keys Instruments so you can listen to audio demos of each.
Thanks again to Focusrite for another great free plugin!