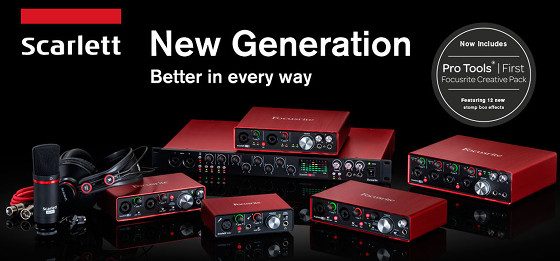 Yesterday Focusrite issued another update for the Windows drivers on their 2nd gen Scarlett USB audio interfaces.
This is like the fifth or sixth update since the new interfaces were released in June, so at least Focusrite's developers are dedicated to improving things.
The new driver version is 4.15. More specifically it's 4.15.0.172.
This is the first update since 4.11 that I actually like and plan to use.
They've made it so that the 64 samples setting runs smoothly at high CPU usage again like it did with the 4.11 driver.
The latency is a couple of milliseconds higher at 7.79 ms overall but at least it's not right on top of the 32 samples setting anymore. If you want to run at 5ms overall latency then 32 is the setting to use, no need for 64 samples to run at around 5ms as well.
Here's the list of changes from 4.14:
– Major improvements on performance in DAWs at high CPU usage.
– Sample-rate is retained after computer start-up.
The updated 4.15 driver can be downloaded here from the Focusrite website.