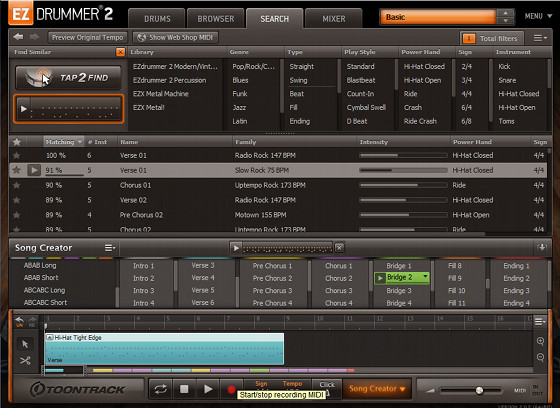 EZdrummer 2 is one of the best virtual instruments for creating professional, realistic-sounding drum beats. It has everything you need to edit, mix, and write custom drum tracks, and it includes an extensive library of pre-loaded templates suitable for for just about any drumming style, especially with all the various expansion packs.
With the release of EZdrummer 2, Toontrack made it a lot easier to search, find, mix-and-match, and customize the library of MIDI grooves to suit the sound you are looking to achieve.
There are a number of ways to search for a particular beat that fits your song.
This tutorial is going to focus on the different ways to find and manipulate MIDI grooves in EZdrummer 2.
The Search tab in EZdrummer 2 gives you a bunch of different ways to search the groove library. You can browse by genre, beat type, play style, power hand, sign, and by each EZdrummer 2 expansion pack library.
You can also choose to add a couple more visible filter columns to the list by clicking the icon next to where it lists "Total filters" to sort by instruments and resolution.
From there you can also add a few additional sections to the visible results column as well. You can show number of instruments, resolution, and which library the groove comes from in addition to the default listings.
Once you click on any of these entries, it will restrict the search to that list. If you want to search in multiple locations click to highlight as many filters as you want. Conversely, right-click on filters that you want to exclude from the search.
You can also use the "Tap 2 Find" feature to use a mouse or MIDI controller to create a beat that can be searched across the EZdrummer 2 library to find the closest match. Keep it simple, with just a kick drum and snare, for the best results.
If you find a MIDI groove that is close but isn't quite right, you can drag it into the MIDI drop zone located below the Tap 2 Find area to bring up a list of similar grooves.
After you find a beat that you like, you can drag it into the timeline to edit it. Right-click to do things like remove specific kit pieces, change the tempo, and you edit the play style for further control and customization.
Hit the Song Creator button to find similar beats to pair up with a groove to create full songs. You can cut, copy, paste, and rearrange individual MIDI blocks. Full song templates can be selected from the Song Creator as well.
The YouTube video below outlines how to do all these things using the search tab and Tap 2 Find feature to filter various categories to easily find the sound you need.
Using Search & Tap 2 Find Tutorial