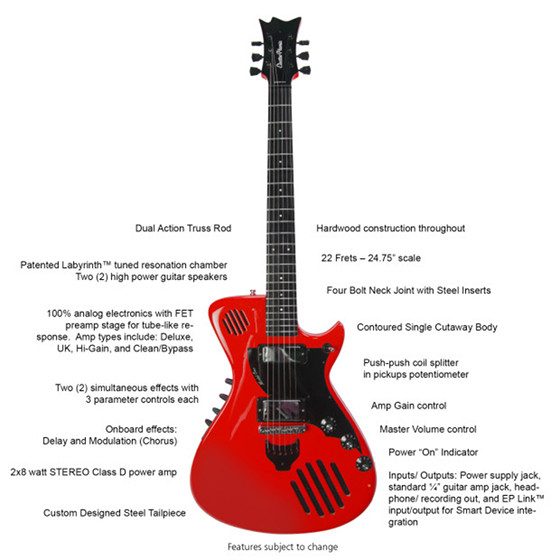 A company called ElectroPhonic Innovations has a new electric guitar in the works that includes a built-in 16 watt amp, effects, and stereo speakers.
It's called the ElectroPhonic Guitar, aka Model One EP, and it's available through a crowdfunding campaign on Indiegogo.
The Model One EP is expected to have a retail price of $850 but it can be had for $550 plus shipping via Indiegogo.
It isn't the first guitar with a built-in amp and speakers. The Synsonics Terminator did that way back in the 80's, but technology has advanced a lot since then so this one might actually be worth using.
I'm not sure about high-gain, though. The Metallica riff sounds pretty bad in the video demo.
Apparently the Model One EP has four amp models, including a UK amp, hi-gain, deluxe, and clean. The onboard effects include delay and chorus so there's not a lot going on in the effects department. But it can connect to a smartphone and it has a rechargeable Li-ion battery.
Obviously it's wireless but it can be connected to an interface for recording or an amp like a regular guitar as well. I'm not sure I'd want one but it's an interesting concept nonetheless. Lots of times I'd like to take my guitar with me somewhere but the whole plugging it in to an amp becomes a problem. I used to have one of those micro Marshall amps and it was pretty cool on the go but they are really limited sound-wise.
ElectroPhonic Guitar Tones Demo
via: Pro Tools Expert