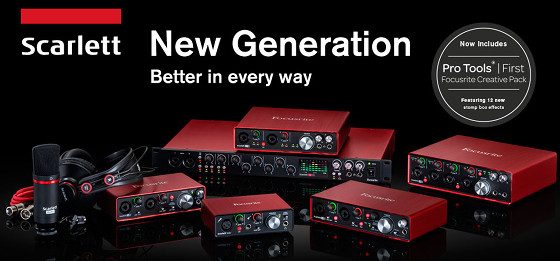 I happened to come across a frontpage deal listing over at SlickDeals with some crazy good sales on 2nd Gen Focusrite Scarlett interfaces at Adorama.
It's the kind of deal that makes you wonder if it's a mistake or pricing error of some kind. The prices are so much lower than usual that they are kind of hard to believe.
If it were the 1st gen Scarletts it would make sense, but it's the 2nd gen models that are on sale.
They have the 2i2 marked down to $106 ($44 off) and the 18i8 for $250 ($100 off), among others.
If you need a new audio interface, there's no better time to get a good deal on one than right now.
Check my Focusrite 2i2 review for a closer look and the 2nd gen Scarletts. The 2i2 has been running great with the latest 4.15 driver; I haven't experienced any issues whatsoever.
Here's the full list of Scarlett interfaces that are on sale at crazy low prices:
Solo – $72 ($28 off)
2i2 – $106 ($44 off)
2i4 – $130 ($70 off)
6i6 – $185 ($65 off)
18i8 – $250 ($100 off)
18i20 – $360 ($140 off)
The weird thing is if you search for these exact same devices from the Adorama website it will show the full price.
The offer seems to be related to an email deal because all the urls say "emailprice" and if you remove that part the page shows the full price for these interfaces.
Don't expect this deal to last for long!