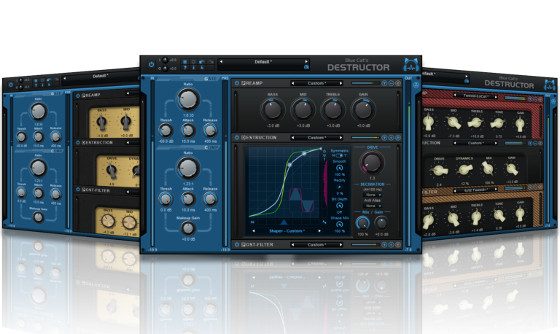 Blue Cat Audio just released a new distortion and amp sim plugin that they've been working on for the past five years called Blue Cat Destructor.
It's designed to simulate all kinds of distortion, and it can be used as an amp sim for guitars and bass to create everything from clean to high gain tones.
Blue Cat Destructor isn't a typical amp sim by any means.
It's not modeled after specific hardware. The signal chain has been simplified, but it's also very flexible with fully editable parameters.
The plugin comes with hundreds of presets that you can tweak to your liking, and it offers 1400 different visual styles.
The Blue Cat Destructor is a lot more than an amp sim.
Check out this Destructor Q&A for more information about how the plugin was created. Here's a quote from the article:
It would eventually become a swiss-army knife for distortion and non-linear modeling. For example, the plug-in also includes bit crushing, sample rate decimation, phase distortion and multiple tweaking capabilities that you would not find in a plug-in for guitarists: it can even be used to emulate analog tape saturation or subtle tube compression to apply on the master bus.
The Blue Cat Destructor plugin is available in all the common plugin formats. It sells for $99 but they are running an introductory offer for $79 until November 11th. Below are some videos showing the plugin in action.
Introducing Blue Cat's Destructor
Destructor Review – Pro Tools Expert
Review – Blue Cat Audio Destructor