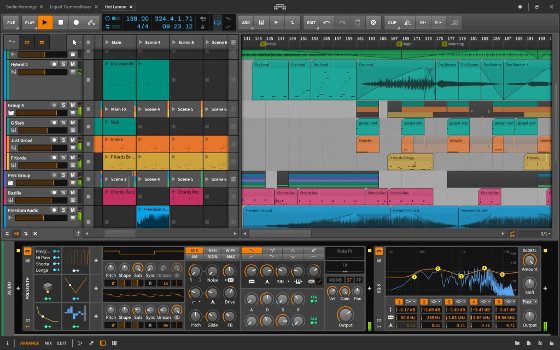 The upcoming release of Bitwig Studio 2.0 was just announced and it comes with a number of cool upgrades and a bombshell of a new licensing model.
Bitwig is a newer DAW released in 2014 that works with Windows, macOS, and Linux. It's geared more toward electronic music production but of course it can be used for all kinds of music.
Bitwig Studio 2 is expected to be released on February 28th, 2017.
As far as pricing it will cost $399/€379, and the upgrade price from Bitwig 1 is $169/€159.
Bitwig is known for being similar to Ableton Live with the linear arrangement view and non-linear session view, with the difference of being able to view both in the same window in Bitwig.
Bitwig 2 adds some core features like fades and crossfades and improved MIDI handling. VST3 support has been added, along with 24 new modulators. Existing devices have been updated, including Polysynth.
That's just a few things. Checkout Bitwig's website for a full list of changes with Bitwig 2.
The new licensing model is already receiving a bunch of negative blowback online.
The way it works is you have to pay $169/€159 each year to continue to get updates. You can continue to use the version that you purchase indefinitely but to continue to get updates you have to pay for a yearly license.
I can see why people would be so outraged by it. Having to pay $169 each year to get new features is one thing, but having to pay that much just to get bug fixes is ridiculous.
Plus that's a lot more that it costs for a yearly Pro Tools update plan ($99) and a lot people think that's too expensive for what amounts to mostly bug fixes and a few new lukewarm features.
That puts a ton of pressure on Bitwig's developers to come out with $169/€159 worth of new features each year for customers to justify spending that much. After six years that's a whopping $1014/€954!
Video: Announcing Bitwig Studio 2