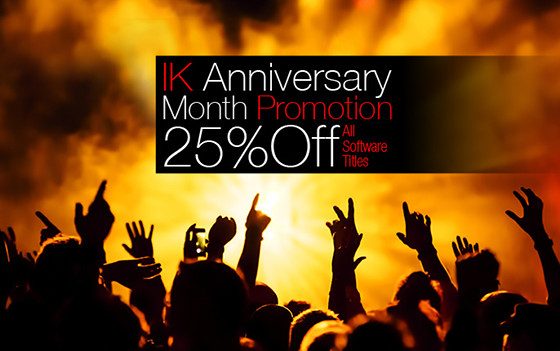 IK Multimedia is running a big anniversary sale throughout the month of April 2017.
Pretty much every software collection and plugin they have is on sale for 25% off the regular price.
They're also offering 25% off of the price of upgrades and crosgrades.
Gear credits are marked down by 25% as well, so you can get 100 gear credits for $75 for example.
You can even use the Custom Shop to get 25% off on single processors and sounds for T-Racks and SampleTank, according to IK.
Apparently the only software not included in the deal is the recently-released Fulltone Collection for Amplitube.
All the other Amplitube products and bundles are included in the sale, along with MODO Bass and SampleTank and T-Racks collections, and even their Max bundles.
Here's the page at IK with the list of deals and prices for the 25% off Sale.